Two time gold medalist in the 1500 metres at the Carifta Games Jevina Straker suffered a heavy defeat yesterday at the Police Sports Club ground, Eve Leary as the Athletics Association of Guyana (AAG) hosted its annual Inter Guiana Games (IGG) Trials.
Straker, who was recently involved in a debate by her coach Leslie Black for selection to the Commonwealth Youth games team, gave the AAG enough reasons to defend her non-selection as her performance seemingly spoke more of digression rather than progression.
The two-time gold medalist was overhauled in the 1500 metres by national sprint queen Alisha Fortune's daughter Andrea Foster in a time of 5:10.2s. Straker turned in a time of 5:13.4s which is way below her usual standard but finished ahead of Jonella Jonas who clocked 5:13.8s.
Foster also claimed a distance double as she won the girls' 3000 metres in a time of 12:12.5s to finish ahead of Alexis Williams in 12:38.5s.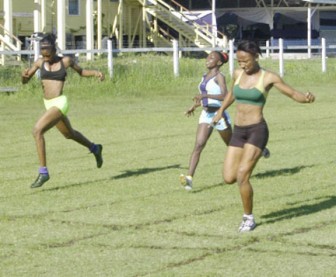 However, Straker did rebound in the 800 metres winning a race which seemed heading for a close finish with her and Melissa Byass but both competitors did not try to outsprint each other in the final 100 metres of the race.
Straker clocked 2:23.1s for the first position while Byass turned in a time of 2:23.2s for the second place finish.
Meanwhile, Letitia Myles returned to her dominant self as she easily captured a sprint double over her rival Tiffany Carto.
Myles, who will attend the Commonwealth Youth Games in the Isle of Man next month, proved her selection was merited along with Carto as she clocked 12.2s and 22.5s to win the 100 metres and 200 metres respectively.
Carto clocked 12.7s and 25.8s to finish behind Myles in the 100 and 200 metres respectively.
"It feel feels good to be back on top after the year I had least year and now I'm just focused on going to the Commonwealth Games to better my personal best times. I was a little nervous in the 200 metres after the 100m finish but with the encouragement of my teammates and former coach, Anson Ambrose, I found it within myself to do well," Myles told Stabroek Sport after wining the 200 metres.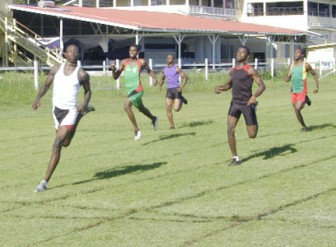 The boys' 200 metres failed to live up to the hype it generated as junior sprint champion Chavez Ageday was disqualified in the heats after he false started.
Ageday's false start gave under-23 champion, Stephan James an easy sprint double as James ran away with both the 200 and 400 metres unchallenged in times of 22.0s and 51.0s respectively.
However, Ageday made amends for his misdeed in the 200 metres as he won the boys' 100 metres easily ahead of Tevin Garraway in a time of 10.7s while Garraway clocked 10.9s seconds for the second position.
Garraway, prior to the boy's 100 metres, had jumped away with the boys' long jump with a distance of 6.41 metres ahead of Marlon Moshette 6.04m and Maurice Gibson 5.4m.
Moshette had some success in the jumps as well as he easily won the triple jump in 12.50m with  Charwyn Hooper second in  11.18m.
Alita Moore claimed a field double when she jumped away with both the long and triple jumps with distances of 4.76m and 10.45m.
The boys' 800 and 1500 metres developed into a rivalry between Kevin Bailey and Trevon George with Bailey winning the 1500m in a time of 4:15.9s and George clocking 4:17.6s for the second.
George returned to outclass Bailey in the 800 metres winning in 1:59.4s with Bailey second in a time of 1:59.6s.
With the trials over, the AGG will next select the IGG squad to represent Guyana in the IGG Games in October in Suriname.
Around the Web