Police today issued a wanted bulletin for a Lusignan, East Coast Demerara businessman in connection with the Block 20 Enmore/Haslington New Scheme multi-million dollar cocaine bust.
According to the bulletin, Indarpaul Moninlal Doodnauth is wanted by the police for questioning in relation to Trafficking in Narcotics.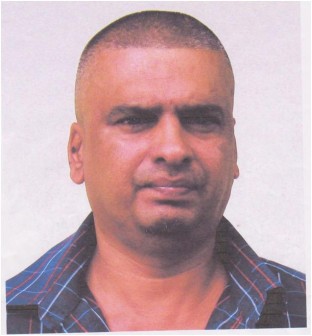 The release did not say which matter he was wanted for but Doodnauth  popularly know as `Teddy' was fingered in the August 16 incident which resulted in charges being laid against a couple and a 15 year-old boy.
Doodnauth's last known address is Lot 234 Lusignan West, ECD.
Anyone with information that may lead to the arrest of Doodnauth is asked to contact the police on telephone numbers: 226-2870, 225-1111, 225-8196, 225-6411, 911 or the nearest police station.
Police had said in a statement that around 3 pm, police ranks conducted a search on a house at Block 20, where they found a total of 72 kilogrammes of cocaine concealed in the false bottoms of a number of aluminum Kunds (receptacles used in Hindu religious ceremonies).
The police also found one hundred and twenty-five (125) 12-gauge shotgun cartridges and one hundred and fifty (150) .32 rounds.
Ranks had apparently visited the house earlier but no one was home. They kept a presence in the area until the occupants returned. When they moved in, they arrested the couple along with their three children.
Around the Web