A farmer was on Sunday night killed at Canal No. 2 Polder, West Bank Demerara, after he was  run over by a motor vehicle.
The driver has since been convicted of driving under the influence and is assisting the police in their investigations into the death of the farmer.
Dead is Deonauth Seegobin, known as `Cantarak', of Lot 9 South Section, Canal No.2 Polder, West Bank Demerara.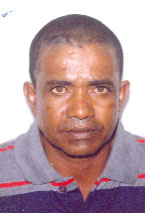 Police in a release stated that at around 10:15pm Seegobin, 45, was allegedly lying on the roadway when he was run over. The release said that he was taken to the West Demerara Regional Hospital where he was pronounced dead on arrival.
The farmer's brother, Doodnauth, related to Stabroek News yesterday that he and Seegobin along with the driver of the vehicle  and others were at a birthday party in a nearby shop consuming alcohol, and Seegobin  was the first to leave the gathering. Doodnauth continued that soon after the driver of the vehicle, who according to him was "drunk",  followed behind in his vehicle and struck his brother down as he was walking along the road.
According to eyewitnesses after Seegobin was run-over, the driver failed to stop and render assistance.
Instead they related that he headed in the direction of the lower conservancy where he was later caught by public-spirited citizens who had followed and caught up with him and alerted the police about his whereabouts.
A post-mortem examination is scheduled to be performed on Seegobin's body tomorrow.
Meanwhile the driver yesterday appeared at the Wales Magistrates' Court where he was charged with driving under the influence.
The allegation against the 37-year-old taxi driver is that at Canal No. 2 Access Road he drove motor car HB 9286 while his alcohol level exceeded the prescribed limit, that is to say he had .060% alcohol in his blood.
The driver pleaded guilty to the charge which was read to him by the magistrate and he  was fined $7,500 or three weeks imprisonment.
The defendant paid the fine, but was taken back into police custody pending investigations into Seegobin's death.
Around the Web