Cyril Potter College of Education top student Villon Parris recently sat down for an interview with Stabroek News and admitted that he is still stunned at his success, adding that he owes it all to God.
"I put it straight to Jesus Christ… I was studying but I won't say studying would give me this magnitude of success," he stated.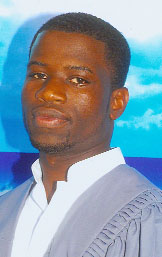 However, he underscored the need for commitment in order to be an effective teacher. "Teaching is a  calling… you have to have a passion for it because with the situation of the country, with where we are going socially, in terms of the youths and behaviour, I don't think someone who is not really dedicated to the job can do it effectively."
Parris, who topped the country, said he was very faithful in terms of his commitment to church and had started teaching Sunday school. During this period, he said, he noticed a trend of blessings in the academic area.
The new CPCE graduate said that after attending last year's graduation ceremony and seeing the top student, he then aspired to be in that position and had prayed every night since until his success materialized.
"I used to pray and ask God to give me a distinction, I never asked to top the country, just the distinction and I had a scripture I used to quote before every exam… it was Romans 10:11 which says for whoever trust in God will never be disappointed and for every exam I used to quote that."
The 21-year-old teacher, a Mathematics major with a minor in Social Studies, said that not many persons were expecting him to become the top student but felt instead that he would just be able to gain a distinction.
When asked how he felt about being named top student, Parris said, "I feel happy when I see persons that know me because I don't think success is anything without persons to celebrate with so that's where I get the joy from."
The Patentia, West Bank Demerara, resident said that most of his time is spent in school and church, noting that he does not go out a lot.
"I go to Patentia New Life of Gospel so I get my social side at church, youth group, Sunday school and I am part of a band so that does it for the social side," he said.
The young man also spoke of his three-year experience at the institution, noting that the teachers were "really good, encouraging, they wish you the best, very supportive and they understand your situation." He explained that during his time at CPCE, he was also an "in-service" teacher, teaching full-time and attending college from 16:00 hrs to 20:00 hrs.
The lecturers, he said, understood the circumstances under which late assignments were submitted and never applied too much pressure in these instances.
Now that he has completed his studies at CPCE, Parris is seeking admission to the University of Guyana and is currently awaiting the script to be processed before having his application granted. He plans to major in Maths and maintained that he will continue to teach while at UG, just as he did at CPCE.
Parris, who is a secondary school teacher,  said he considers teaching to be a good profession which enables  you to invest in the lives of persons and subsequently to witness the fruits of the investment.
He explained that he is comfortable with teaching, adding that it is not too much about the salary for him.
"Probably everybody can teach but to do it effectively with a deep foundation, it has to be a calling."
Parris said that he has recently seen a lot being done by the Ministry of Education in terms of upgrading the status of teachers by offering "upgrading courses" so that they will be qualified to pursue a college education besides benefitting  from an improved package of incentives.
Right incentives
With regards to the government's plan to have teachers imported, Parris said there are capable Guyanese who just need to be given the right incentives.
Parris also touched on the issue of the increasing rate of migration of qualified personnel.
He  noted that persons should most definitely give back to their country. However, he acknowledged that people have needs and if their salaries are insufficient then they should act in their best interest.
If this continues, Parris continued, the standards of schools in Guyana will decline and the education system as a whole could crumble. He suggested that systems should be put in place to attract skilled, intelligent persons to the profession.
To aspiring teachers, Parris said they should be committed and he also advised them not to short-change the students for their personal benefits. He observed  that one thing he avoided was staying away from school to take care of his college assignments.
"I ensured that I give the students what they deserve and in my time I looked after college business. I never short-changed the students. I was there every day to teach. Don't let selfish ambitions take away from what you are assigned to do or the other responsibility you have taken," he urged.
Around the Web