Eid and the days to follow are opportunities to demonstrate the moral upliftment and spiritual evaluation gained through fasting by showing compassion, mercy and kindness towards the creation of Allah, President of the Central Islamic Organization of Guyana (CIOG), Fazeel Ferouz said in his Eid-ul-Fitr message.  Eid will be commemorated tomorrow.
Ferouz said that Ramandan was a golden opportunity for the Muslim community to bring about a total transformation in all spheres of their lives as he extended Eid greetings.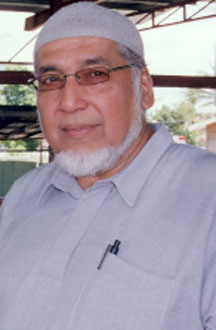 "Let the world observe a community free from all sins, crime and vice and let us be an example which is worthy of emulation and of others accepting Islam," he urged.
Ferouz also lamented that the national and international position of the Muslim communities leaves much to be desired. "Muslims are lamenting the loss of lives, destruction of property, oppression, tyranny, injustice and a host of other problems all over the world," he said.
He appealed to the Muslim community to keep the spirit of fasting alive and let the rest of mankind observe the effect that fasting has in changing the outlook of a believing Muslim.
Around the Web