Minister of Finance, Dr Ashni Singh on Friday handed over a cheque valued at $5 million to the Salvation Army for its Drug Rehabilitation Programme.
Chairman of the Board of the Salvation Army, Edward Boyer said that this sum is due to the hard work of the organization and the satisfaction, in terms of the rehabilitation programme.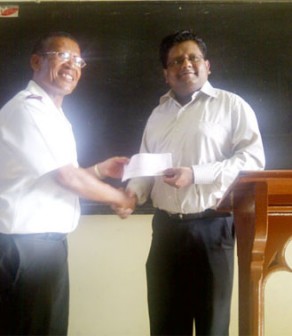 Also, during Friday's proceedings, incoming officers, Major Vilo Exantus, Divisional Commander and Major Ulrick Thibaud, Head of the Drug Rehabilitation Programme, were introduced.
It was noted that this is the second half of the Government's contribution to this programme and with the first half, also of a value of $5 million, the Salvation Army was able to access many clients.
Major Thibaud, in his remarks, noted that he has only been in Guyana for a month and has already fallen in love with the people. "I've fallen in love with the people, especially my boys and I say my boys because I love them…I am not their boss, I am their servant," he said.
Thibaud said that he appreciates the people of Guyana for supporting the President who, he said, wants to take this country to a new dimension.
Meanwhile, Minister Singh stated that this programme is one that President Bharrat Jagdeo has paid particular interest in and added that every single Guyanese person has a role to play and is capable of doing so. Social programmes, the Minister said, must be available for persons to restore themselves.
"Each of you have a role to play, a contribution to make and we want to see you make that contribution," he said, directing his comment to the clients present in the audience as he urged them to take full advantage of the programme being offered.
Minister Singh also extended welcome greetings to the incoming officers, who are both from Haiti but have worked in Jamaica and Barbados and who will be taking up their posts in Guyana for the first time.
Around the Web