NEW YORK,  (Reuters) – Accused Jamaican drug kingpin  Christopher "Dudus" Coke pleaded guilty in a New York court today to racketeering charges more than a year after a  manhunt to capture the fugitive sparked deadly gun battles.
Coke, 42, was arrested in Jamaica in June last year after a  five-week manhunt that began when police and soldiers stormed  slums in the country's capital Kingston in an attempt to take  him into custody.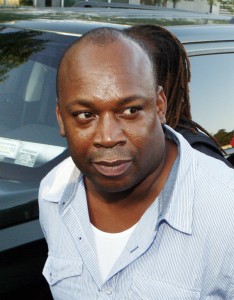 Seventy-six people were killed in four days of gun battles  sparked by the raids.
Coke was a strong supporter of the ruling Jamaica Labour  Party and wielded powerful influence in the west Kingston  slums. Jamaica initially refused to extradite him and the case  had strained relations between the United States and Jamaica.
He was extradited to New York on marijuana, cocaine and  firearms trafficking charges in June last year and pleaded  guilty on Wednesday in Manhattan federal court to one  racketeering conspiracy count and count of conspiracy to commit  assault in aid of racketeering.
Coke, in a blue prison uniform, admitted to running the  Presidential Click, a Kingston, Jamaica-based crime group that  trafficked guns, cocaine and marijuana between Jamaica and the  United States.
"I also ordered the purchase of firearms and the  importation of those firearms into Jamaica in furtherance of  this conspiracy," Coke told U.S. District Judge Robert  Patterson.
Coke faces a term of up to 23 years in prison at his Dec. 8  sentencing.
The case is USA v. Gray et al, U.S. District Court,  Southern District of New York 07-00971.
Around the Web