As Muslims across Guyana celebrate Eid ul-Fitr today, visiting friends and participating in communal festivities, the Razzacks, whose home was severely damaged when a car  crashed into the second flat of their Bagotstown home on August 19th last, will spend most of their day trying to rebuild the fence of the property.
The Razzacks, during an interview with SN yesterday, explained that before the holy month of Ramadan began they had decided that they would have had a huge celebration this Eid.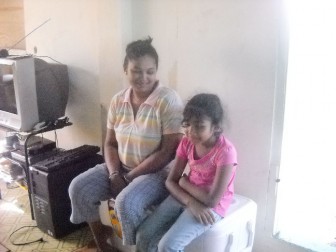 Aleema Razzack, the wife of Faizul Razzack explained that on the Wednesday before the incident occurred she had planned with another relative to go purchasing curtains for her home. She said, while pointing to the destruction, "only the day before me and my sister-in-law say we will go to buy blinds the Friday and look what happened on that Friday?" She added "you know we don't celebrate Christmas as such Eid is our Christmas and we had big plans for Eid celebrations this year. I had already purchased many of the ingredients to cook up big and invite friends over, now when I look at the place I'm not encouraged to do anything."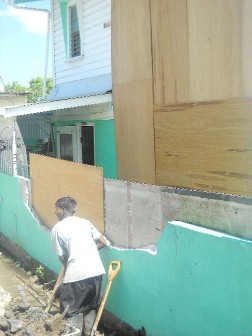 She stated however that she did not let the damage "dampen" her spirits too much. As such, on Sunday she prepared sweetmeats and purchased new outfits for her family to wear for Eid ceremonies at the nearby Mosque since she thought that the moon would be sighted and Eid would be celebrated on Monday.  She added that she will also still give eidis (gifts given on Eid) to her daughter and other immediate relatives and will share sweetmeats prepared with her neighbours and friends. She said she was thankful that she is alive and will be anxiously anticipating next year's Eid celebrations when she looks forward to the opportunity to celebrate the way she had planned for this year. Aleema  cited many discomfort s herself and family face on a daily basis since the accident; from being crammed into a small room in the lower flat of their building, because of the damage to the upper flat and foundation posts in the home, to crafting a makeshift ladder to gain access to the upper flat to obtain personal effects. She stated that her faith in Allah has assisted her in smiling and taking on a positive countenance even when the situation seems bleak. Faizul showed SN an estimated cost for materials and labour  to the tune of $1, 291,100  to fix the damaged house . This cost is minus repairs to his fence which he stated  he will personally undertake.
This estimate was prepared by a Muslim brother, for a fraction of what it would have otherwise cost to fix his house. He said that the contractor understood his plight and as such tried to keep the costs to a minimum. He explained that when the driver of the vehicle read the estimate he said it was too much and even accused Faizul of wanting to build a new house with his money. Razzack stated that he then had no choice but to seek legal recourse in the hope that he will be compensated for the damage.
Lying in his hammock, a worried look on his face, he declared that he just wanted the matter to be over and to be compensated. He said he did not want the compensatory aspect of the matter to reach the courts however the hostility of the driver left him with no other alternative.
The driver of the vehicle, Robin Rajpaul, is currently on $150,000 bail. The matter continues in September.
Around the Web