An 18-year-old man, who was charged for allegedly showing his middle finger to President Bharrat Jagdeo's convoy, yesterday appeared for the fourth time before Magistrate Judy Latchman at the Sparendaam Magistrates' Court.
The initial charge against Kevin Simon was provocation of a breach of the peace, but yesterday however this charge was withdrawn and another is to be instituted under another act. This newspaper understands that the reason for this change is that the first charge had been instituted under Clause 141 (b) of the Summary Jurisdiction (Offences) Act, which according to his lawyer's representative Faye Barker [who appeared on the defendant's behalf yesterday] her client would have had to utter something to be in breach of the law under that section. Instead, she continued that the charge should have been filed under Clause 141 (a), which deals with the use of gesticulations, insulting or obscene language, etc.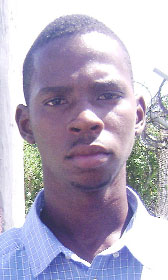 Simon first appeared in court on August 9, after the alleged incident on the previous day. During this first appearance, the youth was remanded and ordered to return on August 16, on which day he was further remanded until last week Wednesday.
Before Simon's penultimate appearance at court, his attorney-at-law Nigel Hughes along with his father Ewald Simon had on August 16, on his behalf, made a bail application in the High Court which was granted the defendant in the sum of $5000. As such, upon his appearance in court on August 24, Simon's matter was adjourned until yesterday, when he appeared and was further ordered to return on September 20.
Around the Web