The partially nude body of a 68-year old Cane Grove, Mahaica fish vendor was on Monday night discovered floating in a canal aback the community.
Dead is Phulmatie Rami, a mother of nine, of Lot 54, Shawa, Cane Grove, Mahaica, East Coast Demerara.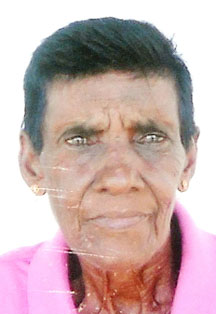 Relatives had reported the woman missing at the police station in the area on Monday evening, after she failed to return home. She had left home around 7:30 that morning to catch fish.
The woman's daughter, Parmawattie Munillal, told Stabroek News that her mother would leave home around 7 am in the mornings for the backlands to catch fish, which she would sell in the village. She said that the woman left home on Monday morning and persons saw her walking along a dam located about a mile away from her home. She said that her mother would walk as much as four miles, towards the East Demarara Water Conservancy (EDWC), to catch fish and she would return home during the afternoons to complete orders she would take from customers.
Munillal said that around 7pm on Monday night, her nephew and his wife travelled to the Cane Grove Police station and reported the woman missing. She added that the police advised them to travel to the area and search for the woman.
She said that her nephew, accompanied by the police, travelled to the area, where the woman was last seen and she noted that the search party discovered her mother floating in a trench. She said that her mother normally wore a small gold stud earring and she noted that it appeared to have been ripped off of her ears while her back had several bruises. She said too that the woman's clothes were partially pulled down while other garments lay on the dam, some 100 feet away from the scene. Her fishing gear also lay on the dam close to where the body was found.
While the family is awaiting the police to complete their investigations, Munillal said the family suspects foul play in the woman's demise. A post-mortem examination is expected to be performed on the woman's remains today.
Around the Web