Dr. Roger Luncheon yesterday testified that a visiting UN expert on minorities produced an "inaccurate" report on Guyana, focusing more on Afro-Guyanese rather than the Amerindians, who he said have a bigger claim as a minority.
Just before Head of the Presidential Secretariat Luncheon continued giving evidence under cross-examination, in the $10 million libel case brought by President Bharrat Jagdeo against Kaieteur News and its columnist Freddie Kissoon, Justice Brassington Reynolds admitted the Gay McDougall report into evidence for identification purposes.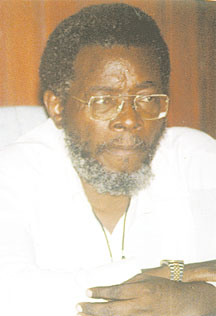 Jagdeo's attorney Anil Nandlall on Monday had objected to the report, which was presented by defence attorney Nigel Hughes. It was following legal arguments by the two sides yesterday that the judge made his ruling.
McDougall, United Nations Independent Expert on Minorities, among her findings noted that a "serious concern" was the stigmatisation of young Afro-Guyanese males and entire communities, which reported feelings of being excluded, discriminated against and victimised. She also said that "Ethnically-based divisions and politics have created two separate and conflicting narratives and perceptions of reality in Guyana." On the part of Afro-Guyanese, McDougall said, there is a widely held belief that they are discriminated against by an Indian-dominated and supported government that puts Indian interests to the fore, particularly in resource allocation, government contracts and employment. At the same time, she said Indo-Guyanese believe that an Afro-centric political opposition, if in power, would settle political scores and work solely in the interests of Afro-Guyanese. She had visited Guyana between July 28 and August 1, 2008, to promote, among other things the implementation of the Declaration on Rights of Persons belonging to National or Ethnic, Religious and Linguistic Minorities.
Luncheon testified that from his recollection, McDougall accepted government's invitation to do a report on the state of minorities in Guyana and "she produced a report that predominantly dealt with Afro-Guyanese and to a significantly lesser extent with our Amerindian brothers and sisters." He said that the government felt that the Amerindians had a much greater cause to be a subject of her investigations. He said that "we also objected to the stakeholders with whom she consulted during her time in Guyana to conduct the report."
According to Luncheon, government also objected to McDougall's short stay in Guyana and the basis for how profoundly she pronounced on her findings. He said that the expert also failed to give an audience to a suitable cross-section of persons.
"I would concede that we were troubled by her report that addressed a much greater level of detail on Afro Guyanese as oppose to the Amerindian brothers and sisters who we felt had a more legitimate claim to be dealt with," he said. He added that the government thought that the report itself on the Afro-Guyanese minority was also a subject of concern. Asked if he thought the report about Afro-Guyanese was inaccurate, he responded "it was".
He later noted that from the inception, McDougall was provided with extensive information on all minorities in Guyana. She was also given an opportunity to meet senior government and state functionaries who were willing to provide information on the issue but instead met with Non-Governmental Organisation contacts, "formal and informal."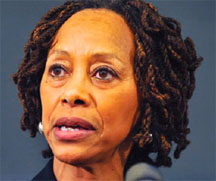 He testified that McDougall opted also to go to the minorities herself. He later said that government was left disappointed when it learnt that the Ethnic Relations Commission (ERC) had made a request to meet with the expert but it was not honoured. He made it clear that the request was not made on behalf of the government.
Luncheon did, however, acknowledge that the UN offered McDougall to the government as an expert and she was not rejected. He said too that prior to the study being conducted, her credentials, among other things, were checked out.
Honorary Consul appointments
Luncheon was also questioned about the administration's failure to act on some requests for honorary consuls. He recalled Spain making a request for Frederick Hamley Case, who is Afro-Guyanese, to be appointed honorary consul. However, he said he was uncertain of the period over which government did not honour the request, after Hughes suggested that over three years government failed or refused to appoint Case.
Asked if he was aware of a complaint being made to the ERC against the government over its refusal to appoint Case on the grounds of his race, Luncheon said "that may be so but I have no recollection of that complaint being lodged with the ERC. Nandlall objected to Hughes asking Dr. Luncheon if he was aware that ERC wrote government asking for an explanation. According to Nandlall, the witness had already answered the question.
Luncheon, under further questioning, said he was unaware of Richard Fields having previously held the posts of honorary consul for Finland and Italy or that the governments of the two countries submitted a request for the appointment of an honorary consul.
He also later said that he could not recall Fields being accredited in under four weeks. He said that he also could not confirm or deny that the representative for the appointment for honorary consul to Italy was Afro-Guyanese and his application is still pending after four months.
Luncheon later acknowledged that several persons who held 22 senior positions at the Georgetown Hospital, including the Chief Executive Officer, were Indo-Guyanese.
Meanwhile, Nandlall, at the beginning of yesterday's proceedings, charged that Kaieteur News was irresponsible, selective and opinionated in its coverage of the case. He made reference to an article published in the newspaper in last Thursday's edition as well as Tuesday's edition. In the latter, he said, the headline carried on the front page represented a finding. "This is clearly not the evidence," he said, while adding that one can see the articles being carried in the Kaieteur News and the Stabroek News being very different. The latter, he said, carries more balanced reports. "They are taking out portions of evidence which suit their interest in the case itself and also they are advancing a particular agenda," he added of Kaieteur News.
According to Nandlall, the newspaper went as far as to name a judge in its Tuesday report, although he was not named in court. He called on the court to reprimand the Kaieteur News and have it retract the headline.
Hughes, in response, said that he was confused as to what Nandlall wanted the court to do.
He said that the court would decide on the evidence that is led and there is no one to be influenced "in your case other than you." He noted that there was nothing in the headline that could be interpreted to influence the court.
Further, he noted that Stabroek News also mentioned the name of the judge. Justice Reynolds said that he would not pronounce on the quality of the reportage, but stressed that the coverage of the matter should be fair and balanced. He added, "I don't know that I have a duty to demand a retraction."
Columnist Kissoon, Kaieteur News Editor Adam Harris and the National Media and Publishing Company Ltd, the publishers of Kaieteur News, are named as defendants in the lawsuit, which was prompted by statements contained in the June 28, 2010 article, "King Kong sent his goons to disrupt the conference." The case continues September 30 when Luncheon's cross-examination should be concluded.
Around the Web