A post-mortem examination was yesterday performed on the body of Cane Grove fisherwoman Phulmattie Rami by Pathologist Dr. Nehaul Singh, who gave the cause of death as multiple injuries.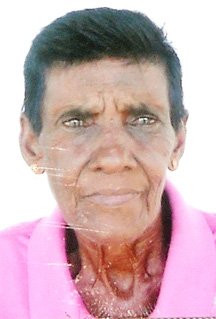 When Stabroek News spoke with the woman's daughter yesterday, she related that the doctor had revealed that her mother had been beaten to death.
The semi-nude body of the 68-year-old woman was found in a canal at Cane Grove on Monday. Gold stud earrings had been ripped from her earlobes, while there were bruises on her back.
Investigations are continuing into the matter.
Around the Web