More than four weeks after being stranded, the Chief of the remote Amerindian village of Kurutuku, Solomon Lewis finally began his long journey home on Tuesday.
Lewis left Kurutuku – along the banks of the Cuyuni River in Region Seven – for Georgetown in July to attend the National Toshaos Council held in the last week of that month. While on his way, the engine of the village boat hit a rock in one of the many rapids in the Cuyuni River, and it was badly damaged. Since then, he said, he was "pushed around" after he approached the Ministry of Amerindian Affairs for assistance with fixing the boat. In addition, someone removed the boat from where it was hidden in the Cuyuni River but it was later recovered after a week of searching.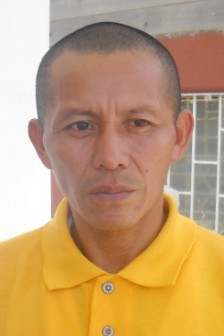 After an article highlighting his plight appeared in the Stabroek News, Lewis said he was contacted by Ministry officials who said that they were ready to assist him. Repairs to the engine were completed last Friday and Lewis left for home on Tuesday.
The village leader said that after the article appeared, Ministry and regional officials who met with him were "annoyed". He said that he met with the Permanent Secretary in the Ministry, Collin Croal who told him that they were "hurt" because Lewis' plight was highlighted and said it should not have been published. Lewis said that Croal told him that if the (reporter) wanted to "clarify" anything, the ministry should be contacted and the toshao should have approached the Ministry first. "He seemed as though he didn't want me to tell y'all my position," the village leader said. He said that he responded that he had approached the Ministry several times with no result. "That's the way the people treat me and when we put it in the papers, they vex," he commented.
Meantime, Lewis said that he was advised that there is a malaria outbreak in the village. He said that the health worker sent a message to regional officials requesting drugs but none has been sent. The village leader said that when this was followed up at the Region's headquarters in Bartica, they were told that documentation has to be sent before any drugs can be dispensed. "Unless he (the health worker) send out the document…only then they will send the drug," he said.
Around the Web