Indarpaul Moninlal Doodnauth, the Lusignan, East Coast Demerara businessman wanted in connection with last month's seizure of millions of dollars worth of cocaine at Block 20 Enmore/Haslington New Scheme, has turned himself in to police.
Crime Chief Seelall Persaud told Stabroek News that the man went to police in the company of an attorney on Tuesday and was detained. He said that man is  in police custody assisting with investigations in the cocaine which was found concealed in Kunds.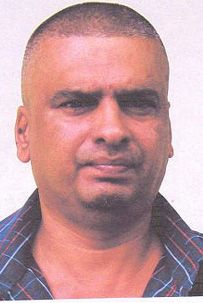 Police earlier this week issued a bulletin for the man and said that he was wanted for questioning in relation to Trafficking in Narcotics.
The release did not say which matter he was wanted for but Doodnauth  popularly know as `Teddy' was fingered in the August 16 incident which resulted in charges being laid against a couple and a 15 year-old boy.
Police had said in a statement that around 3 pm, police ranks conducted a search on a house at Block 20, where they found a total of 72 kilogrammes of cocaine concealed in the false bottoms of a number of aluminum Kunds (receptacles used in Hindu religious ceremonies).
The police also found one hundred and twenty-five (125) 12-gauge shotgun cartridges and one hundred and fifty (150) .32 rounds.
Ranks had apparently visited the house earlier but no one was home. They kept a presence in the area until the occupants returned. When they moved in, they arrested the couple along with their three children.
Doodnauth had been questioned here in January 2009 over cocaine from Guyana shipped in cartons containing bottles of pepper sauce. One such shipment was seized in Canada in December 2008 and another that same month off St Croix, US Virgin Islands. He was later released. The shipment seized in Canada was worth CDN$40M and the one off the USVI US$54.5M.
Doodnauth's brother Mahendrapaul Doodnauth, who unloaded the boxes at a rented storage facility on Rexdale Boulevard in Toronto in December 2008 was arrested by Canadian authorities. He was later charged with importing cocaine, conspiracy to import cocaine and possession of cocaine for the purpose of trafficking.
Around the Web