Up to yesterday, close to 250 Caribbean Airlines (CAL) outbound passengers had been stranded here for three days after repeated flight delays.
CAL transported the passengers to the Princess Hotel around 12am yesterday morning, after tempers flared between them and airline and airport staff at the Cheddi Jagan International Airport (CJIA). Some of the passengers had been waiting in departure lounge of the airport since Monday night.

CAL area manager Carl Stuart met the passengers at the hotel and advised that only those persons with medical conditions would be able to travel as a priority. One passenger said they were told that some 161 persons are to be accommodated on the airline's next flight out of Guyana, but she noted that, "even to that, they can't tell us when exactly we will be able to travel."
Passengers gave their names to an airline representative, who told them that they will be informed by phone when they would have been able to travel.
In its first official statement on the situation, posted on its website yesterday, CAL advised that the airline continues to operate extra flights to and from New York to Jamaica, Guyana and Trinidad to transport passengers who were inconvenienced due to the weather situation in New York over the last weekend. Hurricane Irene caused the cancellation of 34 Caribbean Airlines and Air Jamaica flights, it said.
"Whilst additional aircraft have been leased to continue to assist in the effort of moving remaining passengers to and from New York, we are working with a maintenance delay, with the leased aircraft which have delayed this recovery process," CAL explained.
It added that it understands the inconvenience at this time and is working with the resources at hand to be able to clear the backlog which is spread throughout the region. It further encouraged travellers to visit the CAL website at www.caribbean-airlines. com for all updated travel information.
'Not me and this
airline again!'
The hotel's lobby was filled with passengers yesterday and dozens of them wore angry looks on their faces and many of them accused CAL of "deceit" and "lies" over the flight delays.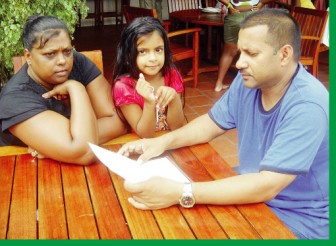 Azam Bahadur received a call from CAL's Georgetown office on Monday and was told that he and his family should travel to the airport for 2pm that day to board a flight to New York. Bahadur told Stabroek News that he and his wife had been making checks with the airline since Friday, when they were informed that they may encounter flight delays as a result of the passing of Hurricane Irene in the United States. He said that he travelled to the airport with his wife, Sherry, and their six-year-old daughter, Aaliyah, and after checking in, they proceeded to the departure lounge to board the flight. It was then that their nightmare began.
According to Bahadur, they were told that their flight was delayed and that they would be able to travel the following morning on another flight.
"We sat there all night, all day yesterday into last night (Tuesday night) and after all that waiting we could not take it anymore," an angry Bahadur noted. "They didn't want you people (media) or anyone to know what's happening, but last night (Tuesday night) we started to make plenty noise and they had to call in the police," he said. "All my luggage was checked in. This shirt I have on, it's on me since Monday," he added.
Bahadur and his family travelled from the community of Mara, in Berbice, to the airport on Monday. "Because we had no contact, our families didn't even know we were still in Guyana," he said. He noted that he was told that his home was damaged as a result of the passing of the hurricane. As a result, he said, "All I want is to get home. That's all. And not me and this airline again!"
'Mini-riot'
Another passenger, Millicent Smith, noted that it was around 11pm on Tuesday evening that an "angry mini-riot" began in the departure lounge, after passengers became infuriated at the frequent "lies they were telling us." She said, "that man [the airline administrator] kept telling us different times and changing his story and we had no choice but to make noise."
Smith related that the administrator eventually told the passengers that they would have to be placed in hotels. "I had to ask them for a notice to say that they will assure us of our travel," the elderly woman related. Smith is a diabetic and her medication ran out today and she said that she will have to wait until she reaches the US to obtain more.
Smith's daughter sat with her one-year old son in the restaurant of the hotel and the women related that they were being this morning that they should be able to leave the airport by 2pm. "Look is 2:15 now and they just met us and changed their story… again," Smith said with a smirk.
Smith's daughter noted that she was expected to return to work yesterday. "Right now, I don't think I have a job. And many of the persons you see outside there in that lobby and by the pool will be without jobs," she added.
Andrea Mangroo said she and her husband were expected to travel to New York since Saturday. "This service is just bad… because we were understanding all the time, but the airline is just deceiving us," an upset Mangroo said.
She said that she and seven others had been staying in the Berbice area for the August holidays. Due to travel back, they were making frequent checks with the airline since last Friday. She said that after "getting nowhere with them, because they keep you on hold when you call the offices," she visited a travel agency in Berbice and paid extra money to get on another CAL flight.
"It's just bad and to know that we were just being kept in that airport for hours… it's just bad and it speaks of the poor service they have to offer us as Guyanese," Mangroo stated.
One disgruntled passenger added that the airline's staff at Timehri was in "dire need of professional training, because they see us sitting there whole day, with nothing proper to eat or drink and they are just sitting there laughing at some of us when we make noise."
While many of them made use to the swimming pool and other facilities at the hotel, they noted that they preferred to be home in the US.
Around the Web