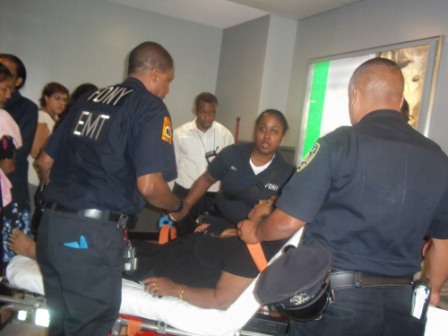 Two hundred and ten of the 229 Caribbean Airlines passengers who were forced to make the JFK International Airport their home since Monday finally arrived in Guyana this morning with some of them facing more woes as all their luggage was not on the plane.
Stabroek News understands that the flight arrived at the Cheddi Jagan International Airport, Timehri at around 12:40 this morning with the weary passengers.
Their arrival ended long hours at the JFK airport where some were forced to make the airport's floor their bed. Stabroek News was told that the 19 passengers who remained at JFK yesterday were told that they would be flown to Guyana first class by the airline. Eighty pieces of luggage did not make it on the aircraft and the airline representatives told the affected passengers that the luggage is expected to arrive in Guyana sometime today as they have already been placed on an aircraft.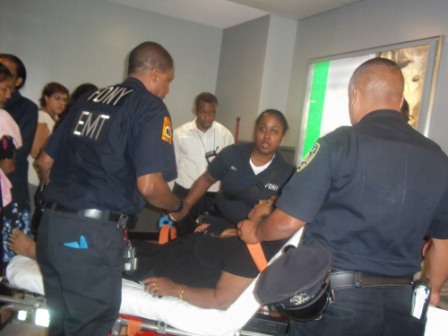 The passengers were only placed on the aircraft after they blocked the departure gate of a Trinidadian flight yesterday morning.
The passengers had complained that many of them were bumped off of their scheduled flight with the promise that the airline had chartered an aircraft to bring them straight to Guyana. However, the aircraft reputedly had mechanical problems that were never fixed even though the passengers were given a number of departure times. Yesterday things came to a head when they were told that they would leave JFK at midnight last night. Upon seeing another aircraft leaving for Trinidad the passengers blocked the departure gate refusing to leave until they were placed on an aircraft. In the end the Trinidadians were left and the Guyanese were placed on the plane which flew straight to Guyana. But even though they boarded the plane at around 2:30 pm yesterday the aircraft never left until 8 pm as it took hours for their luggage to be removed from another aircraft to the one they were on. Stabroek News was told that only two men were employed to manually remove the luggage.
This morning, passengers expressed relief that they were finally home.
Around the Web