"Our Culture Our Heritage Our Life: A Fusion of Indigenous Diversity" was the theme chosen as Guyanese countywide began commemorating Amerindian Heritage Month.  The month-long celebration in September was launched last evening at the National Exhibition Centre, Sophia, Georgetown under the patronage of President Bharrat Jagdeo.
Delivering the feature address Jagdeo wished all Amerindians a happy month of celebrations. He stated that this year's occasion will mark the final time he would be at events like those in the capacity of president. Said Jagdeo "my brothers and sisters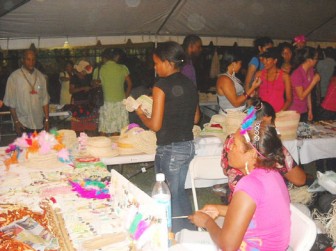 I am extremely happy to be here for the final time as president I will also participate in many other celebrations of a similar nature .. I know I am going to come back here even though in another capacity because I have great faith that this wonderful culture will not only survive but will grow from strength to strength".
He added that as Guyanese joined in celebrating Amerindian heritage month they should be reminded that Guyana is an inclusive society and because of the Guyanese blood that ran through their  veins everyone was related in some way.
In addition he stressed the need for measures to be in place to protect  all ethnic groups however special interest should be paid to protecting the heritage of the indigenous people . The president used the time to pay tribute to the late Dr. Desrey Fox who he stated would have been at the celebrations "in the thick if things" hence, he said, she was sadly missed. He also thanked PNCR member  Dr George  Norton who he said produces work for the development of the Amerindian populace putting  aside political persuasion.
Minister of Amerindian Affairs Pauline Sukhai, in her remarks , stated that the launch marked a commendable developmental advancement in the lives of the Amerindian people . She charged  the younger generation to  not  lose touch with  their culture but try to preserve their  heritage . She too echoed the president's sentiments in paying tribute to Fox whose works she described as outstanding.
The  ceremony included  dances of various Amerindian tribes done by villagers throughout the hinterland. Toshaos, representing various communities, also shared greetings sent by their respective villages.
There will be an Amerindian village open to the public from today until Monday 5th September.  Art, craftwork , foods and a variety of hand-made furniture will be displayed and sold. Amerindian heritage month will end with a Grand Finale on October 1at the Lake Mainstay Resort, Essequibo.
Around the Web