Professor Mark McWatt's poetry collection, 'Journey to Le Repentir,' took top honours at the Guyana Prize for Literature awards ceremony on Thursday evening at the Pegasus Hotel.
The collection was named winner of both the Guyana Prize for Literature Best Book of Poetry Award and the inaugural Guyana Prize for Literature Caribbean Award in Poetry. The night's other winners were Professor David Dabydeen's 'Molly and the Muslim Stick,' which was named the Guyana Prize  Best Book of Fiction, Harold Bascom's 'Blank Document,' named the Guyana Prize Best Drama, and Myriam Chancy's 'The Loneliness of Angels,' which won the inaugural Guyana Prize Caribbean Award for Fiction.
McWatt's collection was the only work nominated in both the national and regional categories.
Chairman of the Guyana Prize Jury Victor Ramraj, in giving the Judges' report, stated that McWatt crafted his book well, finding the right voice and the right tone in sharing his vision of things social and personal. McWatt inserts in this volume of poems, Ramraj said, the sadder aspects of life, of love and death.
Of Dabydeen's novel, that there is a talking, walking stick, Ramraj noted, makes it a challenging read but he added that it was so poetically well-written, so originally multi-layered and so filled with spiritual impact, it was a rewarding read.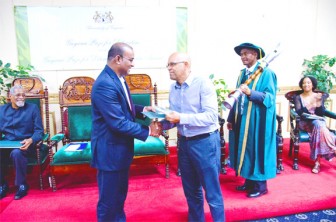 Its heroine is raised in England in the 1930s and is subjected to horrific sexual abuse by her father and his friends and psychologically damaged. She finds solace in a talking Muslim walking stick and in Om, an illegal Amerindian from British Guyana. She follows Om back to Demerara, where she looks to the future with hope. "The novel is complex and it encourages such alluring and/or serious reading. As one of the judges announced the novel is truly intense," Ramraj related.
Bascom's work was said to be a scrupulously-constructed drama, where the protagonist, a past winner of the Guyana Prize, has a badly kept personal secret which when exposed causes her to migrate to the US.  There, she is ostracised and depressed, a state from which she recovers after an experience that liberates the blank document that was her life and the psychological disposition and she finally discovers a meaning to life.
Bascom, Ramraj said, crafted a very effective drama, demonstrating knowledge of techniques in open themes such as Caribbean migration, family relationships and the writing of literature.
Meanwhile, Chairman of the Jury for the Caribbean Awards Professor Stewart Brown said Chancy's work picked up on many of the issues explored in the other shortlisted books, such as 'Dog-heart' by Diana McCaulay and 'The Fullness of Everything' by Patricia Powell. The book was said to be complex and an exploration of the many-layered history of Haiti and the historic Caribbean. "It indulges in its multi-voiced narrations, important stories of lost identity and crossover that are not often told, at least not in such a new and reflective way," Brown noted.
A special role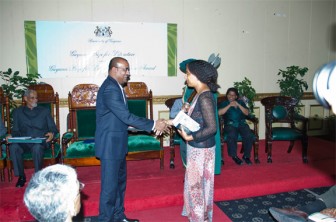 President Bharrat Jagdeo, in his remarks, spoke of a letter read by Dabydeen from Sir Theodore Wilson Harris.
"He spoke of the torn fabric, political and economic fabric, for a society. Clearly, Wilson Harris, Sir Wilson Harris, has justification based on probably experience and knowledge of our society, how turbulent and difficult our colonial past and even post-colonial past has been," Jagdeo noted.
He stated that as more resources are wholeheartedly committed to literature and the development of arts in Guyana and as capacity grows to do so because of an improved economy, it is very clear within the government that literature has a special role to play in societies and particularly in a society like ours.
"Why do I say particularly in a society like ours? Often, in small societies, it is very difficult to explore complex issues… without the discourse being often trivialised and personalised and often people segregated and put into camps, depending on sometimes an honest excoriation of very complex themes and literature could help to do this," he explained…
Literature, Jagdeo said, can do this in a very open fashion, in a very intrusive fashion, without the writers themselves being accused of having agenda because often they tend to see things in a broader perspective.
"This is why we feel that in a society like ours, which you yourselves have seen, particularly recently, that with the subject of asking intervention from abroad, which led to the division of our people. Just a few weeks ago, more information was released from the archives of some of the developed countries, colonial leaders showing their road in creating division in Guyana and because of what happened subsequently, because of that division, until today we live with that legacy, particularly in the older generation," he added.
Jagdeo also noted that for our society to move forward, wounds from the period needs to be healed. We can only do this through enlightenment and through teaching people about what really took place, he said, while adding that literature allows people to become more enlightened as it breaks taboos, it allows complex issues to be explored, it focuses on reason, on intellect, on creativity and it helps people to forge an identity. All of these things, he said, are valued and are important to sustainability, to growth and to maturation of our society as the economic and social issues are and therefore, it is important that this process is encouraged.
Jagdeo also stated that the Government of Guyana is pleased to support the prize and is investigating other things that are expected to help generate new forms of socialisation and new ideas in the society.
"So we are supporting the creation of the training and production of several short movies that are now being shown abroad…We've set up a special fund now that will be ongoing where young filmmakers can have access to this fund to pioneer their work…We've supported the Guyana Classic series, the reprinting of quite a lot of work and some that would not be available in most libraries in this country… this is all about finding out who we are and where we want to go and how our writers and producers of creative thoughts can help in getting us there… A place that brings us all together, a place that gives us pride in who we are… a place that allows us to make a contribution to other societies," he added.
Around the Web