A University of Guyana student met his demise early yesterday morning, after he was fatally shot and robbed by bandits while hanging out by the seawall with a female companion.
According to a police report, at about 3 am yesterday, Anthony Ting-A-Kee, 21, of Lot 74 Robb Street, Bourda, Georgetown, and a female friend were in a purple Toyota VIOS motor car PNN 49, which was parked along the roadway, when they were confronted by two men, one of whom was armed with
a handgun. Investigations revealed that the men took away Ting-A-Kee's jewellery and the motor vehicle. He was shot to his right foot and chest while putting up a resistance. He was subsequently taken to the Georgetown Public Hospital (GPH), where he was pronounced dead on arrival.
Reports are that Ting-A-Kee and his female companion were parked on the Rupert Craig Highway alongside the seawall, just before Sheriff Street when the two men approached on foot and demanded cash from him. Stabroek News understands that as the young man did not have the money the bandits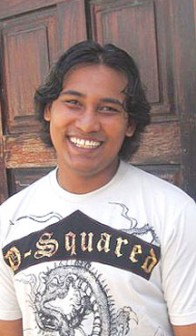 requested, and one of them suggested that he should be shot. The other refused and an argument ensued between the two, after which one of them whipped out a gun and shot Ting-A-Kee twice. It is also understood that after having shot him, the bandits tossed Ting-A-Kee out of the vehicle into the grass, where he was later discovered.
Police later revealed that the stolen car was recovered by them at Lamaha Park, Georgetown. Six live .38 rounds were found in the vehicle, police added.
Ting-A-Kee was the son of a popular Robb Street resident known as 'Georgie.' He was too distraught to speak to Stabroek News yesterday morning.
"I can't believe he is dead, I can't believe he is dead," the man kept repeating.
The man and his son lived close to popular Robb Street drugstore owner Harold Rachpaul, who himself was murdered two weeks ago.
It is not clear how the girlfriend escaped. When contacted by Stabroek News, she declined to comment, while stating that she was not in the frame of mind to speak with the media.
Further efforts made to contact Ting-A-Kee's family proved futile.
Around the Web