In Linden on Tuesday, two physically-challenged residents were able to benefit from a small humanitarian gesture that is expected to be of tremendous help in their daily mobility.
At the E & A Health and Wellness Centre on Coop Crescent, Linden, 40-year-old  Yonette Reynolds and 15-year-old Antone Gomes were each handed a wheelchair, a timely gesture by the Friends Committed to Caring of North America, David Seeram of Chateau Margot, Angel's Network and E&A Health and Wellness Centre.
The two recipients cannot walk.
In the case of Antone, he suffered the impairment from birth. He has never experienced the joys of staying in school and playing in the neighbourhood with other children; a situation his mother wished was different. She said that in his fifteen years he only spent a few months in school and was forced to stay at home because it became very challenging to be outdoors.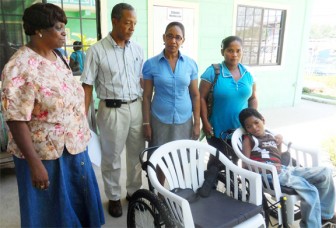 Yonette's story is different. For most of her life, she was able to move around independently, until ten years ago when she became completely immobile.
The families had made a request to Dr. Joseph Haynes, who sought assistance for them, resulting in the presentation.
Aiding in the health and wellness of persons has been the hallmark of the E&A Health and Wellness Centre, which is owned and managed by Dr. Haynes and family. He said that the bright smiles of the recipients send a trumpet of joy to his heart.
"This is just a tip of the iceberg because these two wheelchairs are a small fraction of more than three hundred that we are expecting in the country soon," he said. The other wheelchairs are earmarked to be distributed to persons across Guyana.
In order to qualify to receive a wheelchair, Dr. Haynes is encouraging persons to submit some form of proof of need to the E & A Health and Wellness Centre.
Around the Web