PORT OF SPAIN, (Reuters) – Lawmakers in Trinidad and  Tobago approved a three-month extension of a state of emergency  today after Prime Minister Kamla Persad-Bissessar said it  had averted "a criminal uprising" in the energy-rich country.
The measure, suspending some constitutional guarantees and  giving the police and military sweeping powers to make arrests,  was first declared on Aug. 21 and had been due to expire on  Monday.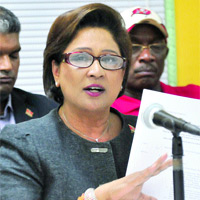 Parliament approved the three-month extension with a simple  majority vote after Persad-Bissessar said the "criminal  underworld" was bent on sowing "bloodshed and mayhem" in the  south Caribbean country.
Trinidad, a leading exporter of liquefied natural gas to  the United States, has faced a growing crime problem stemming  from heavily armed street gangs.
Members of the opposition People's National Movement voted  against the extension of the emergency rule, saying it was  unfairly targeting black communities in the twin-island nation,  which is divided almost equally between descendants of black  Africans and East Indians.
But Persad-Bissessar told a parliamentary debate the  emergency, which has led to more than 1,400 arrests so far, was  strictly aimed at halting runaway crime.
It was clamped on the country after police blamed a recent  spate of murders on the drug trade and turf wars over smuggling  routes through Trinidad and Tobago, which is a trans-shipment  point for South American cocaine headed to Europe and the  United States.
In her comments to parliament, Persad-Bissessar said the  emergency was also required to prevent violent reprisals  against the police and other authorities for recent drug  seizures in Trinidad.
"The nation had been saved from a criminal uprising of  untold proportions. That did not occur. It was stopped in its  tracks with the state of emergency," Persad-Bissessar said.
"The threat to public safety, law and order was real and  imminent. The planned retaliation by the gangs involved in the  drug trade represented a clear and present danger to national  security and innocent law-abiding citizens of this country,"  she said.
Around the Web