A fire almost consumed the Essence of Victoria store located on the second floor at City Mall around 10.30 yesterday morning when scented oil which was lit got into contact with some artificial flowers that were next to the oil on a shelf.
According to the store supervisor (name not given) this was the first time the scented oil was lit in the store. "We never did this before… the oil gave the place a nice scent that is the reason we lit it today."
He added that no items were destroyed as a result of the fire and he is pleased that the fire department was prompt in dealing with the matter before it was too late.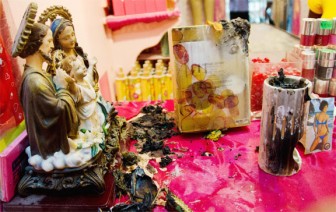 A sales representative who witnessed the entire incident told this newspaper that she became aware of the fire when she noticed smoke billowing out of the store.
"Me and another sale girl were outside then all of a sudden I stared to smell like something burning so when I looked around and I noticed that the entire store was in smoke".
The woman said she instantly rushed inside the store to unplug all of the electronic devices and while doing so the fire department arrived.
When this newspaper visited the City Mall, firemen were attending to the blaze and making sure that everyone had evacuated the building until the situation was brought under control.
Around the Web