A contractor has been left with an injured leg as a row between him and a home owner continues over who was responsible for a house falling into a West Berbice trench.
The incident, which occurred on August 27, has left the transporter and owner of the house in conflict over who is to be blamed.
"Me deh under hospital here," Shaik Ally, the contractor, sorrowfully said yesterday as he alleged that his left foot was struck with a piece of wood by Dabi Ramphal, the owner of the house on Monday, August 29.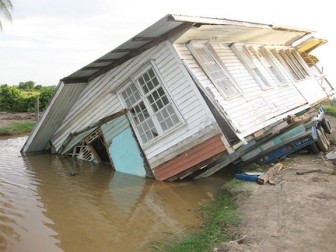 Ally said he went to the location where the house had toppled and met with Ramphal and in an attempt to settle the matter, he told his ex-employer that he could have his tractor free of charge to transport the house but would have to pay the workmen to dismantle the building. To this Ramphal agreed, he said.
However, Ally stated that when he returned on Monday to see what progress has been made, he was informed that Ramphal had told the contractors he wouldn't need them as he and his son were capable of taking apart the building on their own.
"He told me I is a rascal man and I said you gah wait fuh see if I gon lend de tractor before you can call me a rascal man and with that I get one lash to my foot," Ally recalled.
Ally stated that he went to the police station where he lodged a report and was subsequently taken to the Fort Wellington Hospital where he was treated and transferred to the Mahaicony Hospital. "Like he pound me vein," Ally said, explaining that his foot is badly swollen and he is unable to walk but can only "hop with de foot".
He stated that he wishes to take the matter further but first has to get the assistance of the police who he said, are not arresting the individual. "The police supposed to go get de man since Monday…they took my statement but ain't contact me yet," Ally said.
Meanwhile, when this newspaper contacted Ramphal, he denied ever being involved in a fight with Ally. "I didn't hit him with a wood but he deserves some hitting…nothing like that ever happened," he stated.
"He told the police that and bring the police for me but I was not at home and I can't remember what my wife told then," he added.
Ramphal said he has since managed to loose up a part of the building and had it transported home, with just three walls and a part of the flooring remaining in the trench.
Also, he said, Ally has since removed his trailer from the trench and has offered no assistance in removing his building. Ramphal noted that he is hoping to have the entire structure transported today and to soon reassemble it.
The owner said he is still considering whether or not to take further action as he reiterated the long wait before getting any justice in this country.
"Maybe later when I get up enough money to pay a lawyer because the contractor should afford the expense of rebuilding," Ramphal opined.
With regards to the alleged fight, Ramphal stated "That guy like to fabricate stories and hope that he can get away with it". (Frances Abraham)
The house and trailer (SN file photo)
Around the Web