One year has passed since young bank employee Sheema Mangar was run over by a speeding car, moments after her cellphone was snatched and there is still no positive word from police investigators on the status of cloth and hair samples reportedly sent to an overseas lab.
Her still grief-stricken mother Radika Thakoor recently told this newspaper that she is beginning to believe that police are deliberately dragging out the case and have lied about samples being sent to Barbados. Police officials insist that they are still investigating.
Thakoor said that last week she attempted to see Crime Chief Seelall Persaud. However he was unavailable and his secretary told her that the police had not heard anything about the test.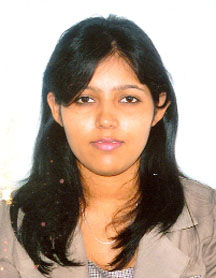 Police had recovered a piece of cloth and DNA beneath a car, days after the murder. A suspect was held and the vehicle, which had dents indicating it was involved in a recent accident, was impounded. The man, said to be linked to the criminal underworld, was later released.
"I don't think they were sent anywhere. In the first place what are they looking for? Anyone can identify the cloth that was found under the vehicle," Thakoor said, distress evident in her voice.
She expressed the view that investigators here could have matched the cloth found to her Demerara Bank uniform rather than sending that piece of evidence to a lab thousands of miles away. "They doing this to drag out this story to get me fed up because of the person who commit the act," she said.
According to Thakoor, if the police really wanted to find evidence they would have found it a long time ago.
She said that statements made by a minister that she had to wait her turn (for the testing to be done) was not only a shock but was disappointing. "Up to now they [the government] can't do nothing to improve this country and to solve crimes in this country," she stated.
The distraught woman told this newspaper that based on the attitude of the police, they really don't want to find her daughter's killer. "It seems like no one don't have any assistance to give you," she noted adding she doesn't even know if the car is still impounded.
She said she is so desperate for answers that she is prepared to help pay the costs to have the tests done quickly. "I want to know which lab they sent it to. If I can find out I am prepared to follow it up," she said.
Thakoor noted that September will always be a hard month for her. She said, "ah didn't even wan it reach. The starting of this month is so hard."
She pleaded with the relevant authorities to update her on the case so she can have some piece of mind and know that the police are really investigating and have an interest in the case.
"My child just come and go down the drain just like that," she said before questioning if the government has the ability to solve crime even with all the money that is being invested in crime fighting methods.
"I think of her every single day. You just don't think it's real; that she is never going to come back," she stressed.
She informed this newspaper that at the moment work is being done in anticipation of the anniversary. The cross which was planted at the spot where the incident occurred will also be replaced.
The Crime Chief had told Stabroek News earlier this year that the samples were still at an overseas lab and the police are still awaiting the results.
Asked what might be the reason for the delay, Persaud said it is not cost effective to do the samples one, two or three at a time. It is better to do them in bulk. He said he believes this was one of the reasons for the delay.
"We can't twist the arm of the lab…," he said before adding that he could not say when the results would be ready.
Thakoor along with her husband Lalbachan Mangar had told this newspaper that they were frustrated over the delays.
Mangar, 20, was robbed of her mobile phone some time after 6 pm on September 11 as she waited for transportation on North Road close to Camp Street shortly after leaving Demerara Bank where she worked. The young woman chased the perpetrator who jumped into a car and ran her down when she tried to stop him from fleeing. She was then dragged from the intersection at Camp Street and North Road to Camp and Church streets. She died hours later at the St Joseph Mercy Hospital from a ruptured spleen, one of the many injuries she sustained.
Around the Web