Relatives of four of the five persons who were gruesomely murdered last year September gathered yesterday at the Cummings Lodge site where the incident occurred and planted a cross in their memory.
Fiona Singh, her 3-year-old son Neil Jupiter, Steve Jupiter, Sherwin known as 'Dice Man' and Christopher George died after the vehicle they were travelling in was riddled with bullets in a drive-by shooting in Cummings Lodge. Relatives of all except George were involved in the memorial.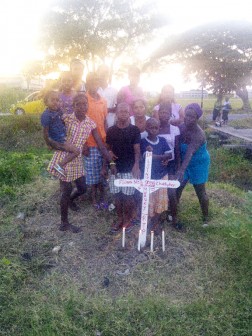 Singh's mother, Kamla, is still pleading for justice after losing her daughter and grandson.
Fiona Singh died on September 5, 2010 at the Georgetown Public Hospital while the four others died on the spot the previous night.
Around the Web