Police Commissioner Henry Greene yesterday challenged anyone to produce evidence that ties him to drug dealers or the drug trade.
"I say to you, judge me by my record from then to now," Greene said to the applause of ranks at the opening ceremony for the current Junior Officers' Course. It was his first response to the recently leaked diplomatic cables sent to Washington by former US Embassy Charge d'Affaires Michael Thomas, who said the Government of Guyana was warned against appointing him because of his reported ties to the drug trade.
"I say publicly that I continue to challenge anyone, including policemen, anyone, to prove my involvement… produce any information of my involvement, my association, my dealing or anything as it relates to drug dealers or the drug trade. I challenge anyone and I continue to make that a public statement," he added.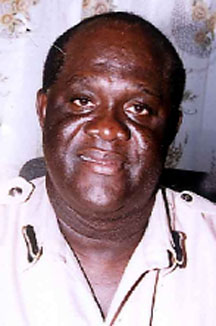 Questions were not permitted at the opening ceremony.
According to the cables, released via the WikiLeaks website, Greene was considered by the US to be "grossly incompetent" and "bad for Guyana's security". When the administration signalled its intention to promote Greene in 2006, Thomas said the US warned of the potential embarrassment of the Police Commissioner being indicted in a foreign court. The US, UK, Canada and EU mission chiefs here later urged the government against going ahead with his appointment.
A July 17, 2006 cable, authored by Thomas, noted that then Ambassador Roland Bullen in a meeting with Luncheon indicated that Greene's name appeared repeatedly in reporting by various US government agencies in connection with criminal activities. Subsequently, the DEA informed Bullen that it had developed "specific, reliable information that documented continuing payoffs by narco-traffickers to Greene." Thomas also noted that the DEA provided language for him to use in informing President Jagdeo: "US law enforcement has reliable reports from multiple sources that Henry Greene has benefited from, and continues to benefit from, the proceeds of drug trafficking."
Both President Bharrat Jagdeo and Head of the Presidential Secretariat Dr Roger Luncheon, according to the cables, promised to reconsider Greene's appointment, but later back-pedalled. Thomas, who said that Luncheon kept Jagdeo in the dark about US concerns about Greene's links to criminal activities, suggested that both men misled the foreign mission chiefs.
At a news conference last Friday, Jagdeo stood by Greene, saying that the US refused to provide information to substantiate its allegations against him.
He also said he had faith in Greene and accused Washington of trying to influence the appointment.
Greene yesterday also noted that the allegations have been around for five years and he had publicly responded to them before. The allegations initially surfaced after the US revoked Greene's diplomatic and travel visas in 2006. At that time, Greene issued a brief statement in which he denied allegations of any wrongdoing.
"I want categorically to state that I have never been involved in any way with illegal drug operations either locally or abroad, and I have never associated with any drug dealer," Greene, stressed in the statement.
He added that the revocation was a painful event for him, but he noted that it is the prerogative of states to grant visas and to also revoke such visas in their own deliberate judgment, subject to the application of their laws. Two years later, at his confirmation as substantive Police Commissioner, Greene again used the opportunity to reiterate his innocence of wrongdoing.
"I have never been involved in any drug activity with any drug lord and I maintain that position onto this day," he told reporters after he was sworn in.
Around the Web