Publisher of the Kaieteur News Glenn Lall yesterday declined to confirm or deny ever having a discussion with US Embassy officials here about possible motives behind the killing of five of his press men back in 2006.
"I have spoken to so many diplomats—diplomats from Canada, the US and England. Can I recall what I told him? No," Lall told Stabroek News yesterday, when contacted and asked about an August 13, 2006 meeting he reportedly had with the embassy's officials.
In an August 16, 2006 cable, Charge d'Affaires of the US embassy Michael Thomas told his superiors in Washington that on August 13, 2006 embassy officials met Lall and he had indicated that he believed the August 8, 2008 killings of his press men were politically motivated.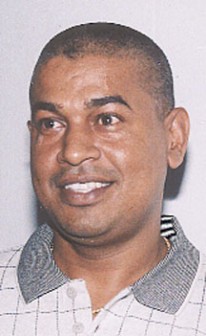 "Lall's paper is not especially pro-government (he professes to support the upstart Alliance For Change).  Instead, Lall thinks that the gang targeted Kaieteur because it is such a public and high-profile institution, although he also intimated that the attackers may have expected to find weapons at the printer," Thomas wrote in the secret cable, made public on the whistle-blowing website WikiLeaks.
At that meeting, Lall also reportedly insisted that he knew some of the gang members, who were as young as 12 years old.  He pointed out that his newspaper had been targeted in the past and he described a grenade attack a few years prior to press men slayings, when his printery was set on fire — apparently the work of men associated with a well-known drug kingpin who had objected to newspaper's coverage of his kidnapping.
"Lall himself has an interesting past, with possible connection to alien smuggling," the cable said.
"Lall acknowledged rumours that he had hired ex-members of Roger Khan's so-called Phantom Squad — connected to former Home Affairs Minister Ronald Gajraj— that carried out extra-judicial killings in 2002-2003. He dismissed the rumours, but admitted that he does employ off-duty officers from the President's and Prime Minister's details as security for his office and his wife's shoe business," Thomas reported.
Lall yesterday described all that has been written in the cable as a "rumour," while adding that he was surprised that both the Guyana Times and the Guyana Chronicle would take a rumour and make it front page news.
"It is clear to the nation what their motives are," Lall said, while referring to the front page coverage given by the two newspapers to the Thomas cable and another one written by Political Officer Benjamin Canavan on August 15, 2006.
In his cable, Canavan said he had spoken to Lall on June 4, 2006, and he described the newspaper owner as having a "sketchy past" and a man who "translated a shoe trading business (and rumoured involvement with alien smuggling) into a muckracking independent newspaper. He has a finger firmly on the pulse of Guyana's underworld, which serves his media enterprise well."
Meanwhile, Lall dismissed reference to an August 10, 2006 conversation between Thomas and politician and businessman Peter Ramsaroop, who reportedly said he believed convicted drug lord Roger Khan was responsible for the slaying of the press men based on information given to him by Lall.
"Peter is going out of his head," Lall immediately replied when asked about what Ramsaroop reportedly told Thomas.
"Peter is looking for political mileage, he is looking for attention and he is going out of his head," Lall further said.
He added, "If Peter did say that then he is like all other politicians just looking for attention.
Thomas, in the August 16 cable, said that he had spoken to Ramsaroop, whom he described as "a prominent Guyanese-American businessman and aspiring politician" by phone on August 10 and he reportedly detailed a long conversation he had with Lall.
"According to Ramsaroop, Lall confided that narco-criminal Shaheed 'Roger' Khan (currently incarcerated in New York awaiting trial) is blackmailing those whom he helped protect during the 2002-2004 crime spree. Khan may need funds to pay his legal bills or to finance his vulnerable drug trafficking operation," Thomas said.
Ramsaroop also reportedly told Thomas that Lall refused the demands and as a result was fearful of becoming a target.
"In this scenario, gunmen controlled by Khan's organisation killed the Kaieteur News employees to send a clear message to others who do not want to pay up," Thomas said.
However, in the conversation with officials from the embassy, Lall reportedly indicated that he did not think Khan was still pulling the strings of his criminal organisation now that he was in New York awaiting trial; rather, two or three people were taking over.
The theory posited by Lall was the same reportedly used by former Minister of Home Affairs Gail Teixeira, who, Thomas said, met him and the UK and Canada Chiefs of Mission on August 11 to discuss Guyana's deteriorating security situation in the run-up to the August 28 general elections. (Teixeira has disavowed much of the contents of Thomas' reports of their conversations.)
At the meeting, Teixeira, Thomas said, outlined the government's interpretation of the Kaieteur News killings and the recent turmoil in the country, which she said was all politically-orchestrated.
"She alluded to information that suggests the perpetrators' motive is to make people afraid to participate in the election and/or provoke a constitutional crisis by forcing an election postponement past the September 2 deadline," Thomas wrote in the cable.
According to Thomas, the former security minister lamented that the joint services — the Guyana Police Force (GPF) and the Guyana Defence Force (GDF) – were reluctant to see a political hand in the violence, although that opinion is now changing.
"Teixeira said that armed Afro-Guyanese gang members (commonly referred to as the 'Buxton resistance') are essentially available for hire and are trying to embed themselves in new places now that the joint services have cracked down on their traditional refuge in Buxton," Thomas further said.
Thomas also wrote that both Teixeira and Lall said that some of those who killed the Kaieteur News employees were also responsible for assassinating Agriculture Minister Sawh in April 2006.  He said both attacks bore similarities in terms of tactics and dress and referring to the August 12, 2006 arrest of the now dead gang member Jermaine 'Skinny' Charles by the police, Thomas said it was unclear whether it was the police who found him or Lall's privately hired "security" men who handed him over.
Around the Web