A deteriorated body was discovered three weeks ago at the Bath Settlement sea shore, at West Coast Berbice and relatives of Basmattie Anantram, who disappeared since June 8, are convinced it is her.
The remains, described to be mostly bones with just small portions of flesh, are being kept at a mortuary in Berbice, where they await an examination performed to determine the time of death and the age of the person.
The woman's sister, Babita, explained that thecorpse has the same length and foot size as Anantram. "Only one person from this area went missing so who else it gon be?" the woman questioned.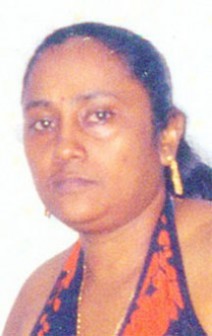 While the sister indicated that the body was found by fishermen who were fishing in the area, Anantram's brother, Dilchand Pooran, told this newspaper that he had heard it was police officers who made the gruesome discovery.
Pooran wants the examination of the remains done as soon as possible and he is contending that it is as a result of negligence by the police that three weeks have passed without it being done.
He explained that the remains have to be positively identified as his sister before it is handed over to the family and to have that done has so far has been frustrating. "To get the dead is a problem because the police is not going to pick up the doctor," Pooran stated.
The man said he offered to pick up the doctor so that he could do the examination, but he refused and insisted that the police do their job.
When contacted, Dr. Vivekanand Bridgemohan, the pathologist expected to perform the examination, explained that the legal procedure would be to have the relatives of the deceased make a report and the police would thereafter call and arrange with him to have an autopsy done. He noted that the examination is a very simple procedure.
"The police have never turned up or haven't called me," he added.
Pooran is now calling on the relevant authorities to look into the matter, since the skeletal remains have been lying in the mortuary for three weeks.
Anantram, 46, better known as 'Dato,' disappeared from her Seawell, Corentyne home. She was last seen by her husband.
It was reported that the man left sometime around midday on June 8 to look after their cows and upon his return, about an hour later, he could not locate the woman.
One of the woman's relatives explained that her husband migrated to the US about six months ago, but was here on vacation when she disappeared. The man returned to the US two days after her disappearance.
Pooran yesterday told Stabroek News that the police had indicated to him if the remains are identified to be that of Anantram, then further action will be taken to have the husband return to Guyana to assist with investigations.
Around the Web