The presidential candidate of The United Force (TUF) Valerie Garrido-Lowe yesterday secured an injunction against her party colleagues Manzoor Nadir and Ismail Muhammad preventing them from interfering with her functions.
The injunction was granted by Justice James Bovell-Drakes, according to her attorney Christopher Ram. The Orders will be entered and served on the defendants today.
The injunction, according to Ram, restrains "the defendants by themselves and each and every one of them, their servants, agents or workers or otherwise whomsoever and howsoever, from interfering with the Applicant'/Plaintiff's functions as leader, presidential candidate and executive member of the TUF, until the hearing and determination of a returnable Summons in this cause."  The injunction also restraints "the Defendants by themselves and each and every one of them by their servants, agents,  or workers or otherwise whomever and howsoever from interfering with the plaintiff's occupation of the head office of TUF" in her capacity as the elected leader, presidential candidate and executive member of the party.
Garrido-Lowe is being represented in this matter by attorneys Abiola Wong-Innis, Fitz Peters and Ram.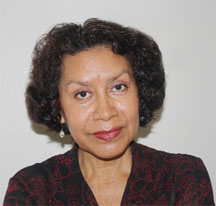 The party has faced a leadership crisis over the past week. On Thursday, meetings of rival executives of TUF sought to depose Garrido-Lowe and Muhammad. The showdown between Garrido-Lowe and Muhammad stems from the former's move to have Nadir vacate the TUF seat he holds in Parliament.
On Monday, Nadir told Stabroek News that he had reluctantly taken back the reins of the TUF's leadership after Lowe's attempt to "surgically remove" long-standing officers of the party. Back in May, Nadir had given up the leadership of the party back and indicated his support for Garrido-Lowe. He staunchly denied that he was part of any plot to bring down Garrido-Lowe.
Nadir said that the executive had been very sympathetic to Garrido-Lowe and had politely asked her to remove her belongings from Unity House, the party's headquarters, and to vacate the business establishment from the lower flat of the building which the executive had previously allowed her to occupy rent-free.
Around the Web