Almost four  months after  the  May 20th gruesome slaying of Verone Pattoir at Lot 42 Mudflat, Stanleytown, New Amsterdam, hire car driver   Sevak Rampersaud called Suresh, has been charged with her killing.
The thirty-six-year old  appeared  before Magistrate Adela Nagamootoo  at the Reliance Court, East Canje, where he was not required to plead to the indictable charge of murder.
Defence Counsel Mursalene Bacchus on enquiring from the Police as to whether they were ready to proceed with the Preliminary Inquiry, was told that the file has been returned with the advice to proceed. The PI can commence at the convenience of the court, Prosecutor, Corporal Orin Joseph said.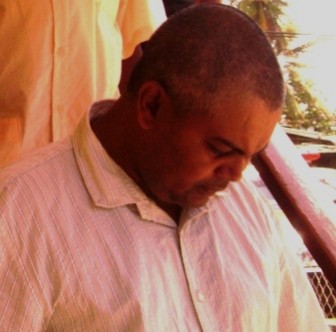 Meanwhile Bacchus told the media that following his client's arrest, habeas corpus  proceedings were filed for his release and Justice Winston Patterson had made an order instructing the police to show cause why his client should not be released. However, Rampersaud was granted $200,000 station bail, having been released by the police on May 24th last.
He was subsequently re-arrested on Tuesday, prior to his court appearance.
The defendant is expected to re-appear at the New Amsterdam Court on September 19.

Police had said that  Pattoir, 40 years, was found in her home at about 1445h on Friday, May 20, 2011, with chop wounds about the body. She was pronounced DOA at the New Amsterdam Hospital.
A knife and a rolling pin were recovered at the scene. Rampersaud was taken into custody at that point, questioned and released.
Around the Web