Region 4 education officials and parents of students attending the Golden Grove Secondary School will meet today to discuss needed building repairs, which have forced its temporary closure.
The meeting is scheduled for 8:15am at the Regional Democratic Council, at Triumph and follows a protest by parents on Monday over the state of the school.
Stabroek News revisited the school yesterday and was informed by a teacher that 50 pairs of school furniture were delivered by the Regional Education officers earlier in the day. Home Room teachers were seen fixing their respective classrooms to accommodate the furniture, while children were seen playing in the school compound and sitting at nearby food stalls on the road.
Parents held a meeting later yesterday afternoon and resuscitated the Parent-Teacher Association (PTA). Executives of that body formed a committee that will meet regional officials today to decide on a way forward for the school.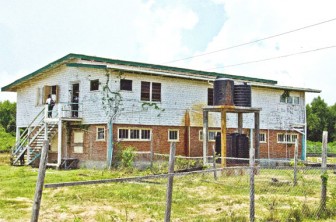 David Gentle, PTA representative, stated that they will not allow their students to return to the classroom until all other matters were resolved at this morning's meeting. Said Gentle, "We will not allow a couple pieces of furniture to bribe us. We are grateful yes, but we will keep the school closed until all these repairs are facilitated." He added, "We have housing proposals, among other things, to show to them in case they say the students have nowhere to go." PTA executives  stated that they will query from the officials the extension of the school, promised to them six years ago by the Minister of Education .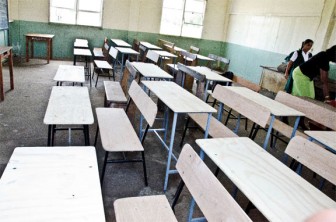 If  the outcome of the meeting was not favourable, the parents stated that they will protest the offices of the Minister of Education and the President.
Parents on Monday closed the school, demanding immediate repairs to the derelict building.
Around the Web