The US Embassy in George-town believed that drug kingpin Roger Khan might have had compromising information that if released could "spell the end" of Bharrat Jagdeo's presidency.
Writing in a secret August 14, 2006 cable, Charge d'Affaires of the US embassy Michael Thomas said that the possibility that Khan reveals the "PPP's dirty laundry is the big wild card," but added that the government would have gone to great lengths to prevent Khan from doing so.
Khan had been taken into US custody at that time.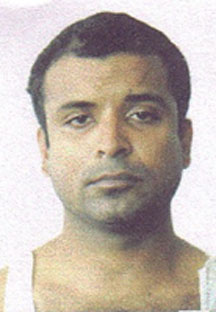 "Post understands that Khan may have compromising information about Jagdeo. If Khan does reveal this information in a proffer, it would spell the end for Jagdeo," Thomas wrote in the cable, which has been made public on the whistle-blowing WikiLeaks website.
"The conventional wisdom says that the highest levels of the GoG [Government of Guyana] will go to great lengths to prevent Khan from spilling the beans," he added.
The very detailed cable by Thomas, in the run up to the 2006 general elections, related the influence former Presi-dent Janet Jagan still had on the ruling party, the readiness of the Guyana Elections Com-mission for the elections, the state of the PNCR and its alleged links to Buxton gangs, among other things.
According to Thomas, at the time there were no signs that "Jagdeo's micro-managing leadership style" had changed in the run-up to elections. He pointed out that the August 28 election date was largely a product of Jagdeo's determination to have elections before the September 2 extended constitutional deadline.
He had pointed out that even at 85, former President Janet Jagan remained the matriarch of the PPP, "although her role will decline rapidly as her health continues to decline."
"She still appears in public at party events and writes a column in the PPP organ "Weekly Mirror." Tellingly, Jagdeo apologized to Ambassador [Roland] Bullen July 11 for Jagan's vitriolic column that described the "stench of rendition" in relation to Khan's expulsion. Jagdeo took pains to make clear that Jagan does not speak on behalf of the GoG," Thomas said in the cable.
Meanwhile, Thomas also reported that at the same July 11, 2006 meeting with Bullen, Jagdeo told the former ambassador that there would have been "substantial" cabinet changes after the elections and that he had already informed ministers. Thomas said that one casualty could have been Head of the Presidential Secretariat Dr. Roger Luncheon, who held that position as Guyana's de facto number two since the PPP came to power in 1992. Luncheon was never removed and still holds the said position.
Thomas repeated what was said in other cables that Luncheon had criticized President Jagdeo in recent meetings with the ambassador. He said that Luncheon had described conflicts between the PPP government (Jagdeo, essentially) and PPP party headquarters.
"Other observers have described the split between the idealistic Communist wing of the party (who, ironically, are fairly well-disposed to the U.S.) and the opportunists who entangled the party/government into dealing with narco-criminal Roger Khan," Thomas said.
Old guard
Thomas said that the president enjoyed greater support outside the party than he did among the old guard of the PPP inner circle, however, the PPP Executive Committee realized that Jagdeo was the best shot they had at winning an outright majority.
Dr Luncheon has refused to answer questions on the WikiLeaks cables.
According to Thomas the police and the army had begun joint raids on suspected drug traffickers' properties in March 2006 and after US law enforcement took leading narco-criminal Khan into custody in June 2006 there was calm. However, Thomas said that the calm was shattered August 8, 2006 when gunmen killed five Kaieteur News press men, in an operation that bore similarities to the February 2006 Agricola/Eccles massacre.
Thomas added that doubts remained as to how vigorously the predominantly Afro-Guyanese army and police ranks would have quelled aggressive protests by Afro-Guyanese PNC supporters.  "The PPP leadership is paranoid that the security forces are not loyal to the government," he observed.  However, he added that they did see Commissioner Henry Greene as their man, which may have played into Jagdeo's thinking when he elevated Greene.
"Greene wants to satisfy his political patrons and cement his position as permanent commissioner — so is likely to cooperate with the PPP's wishes when it comes to handling election violence. However, Greene is also known to be on the payroll of narco-traffickers who have connections to some in the "Buxton resistance" — whose members are responsible for recent horrific crimes, none of which Greene solved in his former role as Crime Chief," Thomas wrote.
Greene has strongly denied having any links to narco-trafficking or benefitting from the illegal trade and on Monday he challenged anyone to produce evidence of such.
Thomas said that there was no concrete information to substantiate rumours that former GDF Chief of Staff Brigadier General Edward Collins was connected to the PNC.
"Ninety percent or more of GDF and GPF personnel are Afro-Guyanese and the conventional wisdom is that they must then be connected to the PNC — but this is an over-generalization.  Many GPF officers take their jobs seriously but lack the resources to take on better equipped and organized criminals, just as many GDF officers take pride in their professional duty to defend the state," Thomas wrote.
He said what is clear however, is that certain ex-GDF officers, both in Guyana and overseas, were aligned with the PNC
Quashed
Collins, Thomas said, had told his peers at the May 2005 Caribbean Heads of Defense conference that there had never been a coup in Guyana and there never will be.  He and all of his senior staff had expected to visit Washington for a high-level visit in late July of 2006, until Jagdeo quashed all travel by security forces until after elections.
"Such a trip would seem unusual for a cabal of coup-plotting officers just prior to elections. Both parties appear to have access to weapons and armed groups," Thomas said.
On the other hand, he said that Khan's armed group was believed to be at the PPP's disposal — although it might be more accurate to say that the PPP was at Khan's disposal.
"Another armed group — the so-called "Buxton resistance" — includes notorious local criminals such as Rondell "Fine Man" Rawlins.  It is definitely anti-PPP but is not necessarily at the PNC's disposal, and it also has links to Khan. Some interlocutors refer to three or more armed groups.  Regardless of the number, these groups are driven primarily by criminal agendas, but are susceptible to political manipulation."
Thomas added that it was not yet clear how Khan's departure from the scene would have affected the security balance. He named three well known businessmen as Khan's potential successors, all of whom were believed to have some ties with the PPP government.
"They have all built criminal enterprises and substantial wealth under the PPP's nose, which they could not have done without the government's acquiescence," Thomas concluded.
Meantime Thomas told his superiors in Washington that despite the PNCR's complaints about the voters' list, the leadership of the party was resigned to an August 28 election and probably realised that if they pushed for a delayed date it would have been self-defeating.
"However, we cannot discount the possibility that the recent surge in violence may be part of an effort by PNC extremists to force an election delay, causing a constitutional crisis that would require a politically negotiated solution," Thomas said.
He said that party leader Robert Corbin was on shaky ground within the party heading into elections.
"Rumors of his stepping down have circulated for years — yet no one has staked a convincing claim to replace him."
He said while the now dead Winston Murray was widely admired he was not seen as Afro-Guyanese enough; Vincent Alexander was a steady and loyal deputy but lacks sufficient charisma; and Stanley Ming was winding down his involvement in politics, leaving a number of PNC firebrands who possessed no more voter appeal than Corbin.
Around the Web