A Guyanese man was shot and killed in neighbouring Venezuela on Saturday night, his relatives said yesterday.
Dead is 23 year old gold miner, Delroy Fredericks of Venezuela and formerly of Mashabo, Essequibo Coast.
According to an uncle of the deceased, Delroy and three of his friends went to purchase hot dogs from a nearby shop when they were attacked by gunmen who demanded that they hand over all their belongings. The friends complied with the demand but Delroy refused  prompting one of the men to shoot him in his abdomen. He was rushed to the Waiparo hospital and was taken to the surgery room where he died several minutes later.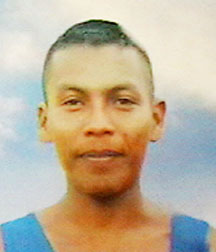 According to the uncle, Delroy returned from the interior only a week ago. He was employed with Conway Gomes Mining Company at the time of his death.
Meanwhile, mother of the dead man, Amy told this newspaper that she along with Delroy and two of his siblings left Guyana seven years ago to live in the neighbouring country.
She noted that the family only returned to Guyana two months ago to visit relatives in Mashabo.
He leaves to mourn his mom Amy, dad Ronald and four siblings.
Delroy was scheduled to return to his relatives at Mashabo during this week.
His body was brought to Guyana yesterday and will be buried today.
Another Guyanese, 33 year old Lakeram Kissoon a/k Cateye of Reliance, Essequibo was shot and killed in Venezuela in November, 2009.
Around the Web