Residents of Linden are expressing no-confidence in the management of bauxite company BOSAI fulfilling their recent commitment to have two dust collecting units operational by February 2012,  saying that they have for many years been living on empty promises.
Their claim was valid, according to Regional Chairman Mortimer Mingo who blames the slothfulness of the Chinese company on the deafening silence by key stakeholders, particularly the Environmental Protection Agency.
"All we have been getting is empty promises and this has been happening for generations over," a Linden businessman said.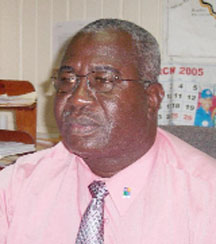 His point of view has been echoed by several other residents in the Linden community, many of them claiming to have experienced respiratory ailments owing to bauxite dust pollution.
"It's a sad thing for us here in Linden," said another resident. The woman said that for years she has been experiencing respiratory complications and it was after traveling overseas it was revealed that the root cause of her problem was the dust which has "formed  a blanket on her lungs."
"They (the overseas doctors) asked me if I use to inhale any powdery substance because of what they see. I never use no drugs or nothing, not even smoke," she explained.
The bauxite company had introduced a medical clinic which, according to residents, couldn't suffice for the sicknesses already suffered. Besides the health complications, residents complained bitterly about the destruction of household appliances and furnishings.
Like dew falling
"Some morning when you wake up you would think it's dew  falling but it's dust in yuh face," said a distraught resident of Silvertown. Silvertown is one of the communities closest to the bauxite plant from the Wismar end. The far reaches of Wis-roc Housing Scheme, Blue Berry Hill, and Block 22 are all  affected in a noticeable way.
And not a single resident there spoken to by Stabroek News expressed any  optimism that the dust collector system was going to come to fruition in February of 2012. They said that they are confident that the pattern of delay and making excuses will continue.
"Deh gon put up something but I am sure that not for next year February because of their own trends of doing things."
Residents of West Watooka, Canvas City, Half Mile and other areas say that living with the dust nuisance has become a part of their daily lives. "We get so accustom to it that a lot a changes going to go on with we when or if they ever do put in the dust collectors," said a housewife of Canvas City.
She said that most persons have developed a pattern of washing their internal walls and windows and curtains on a regular basis, fortnightly or monthly.
Bronchial
Bronchial problems are common among residents, especially children and the elderly in the community. "Most people who does be at home like dem lil children and old people always got to be running to deh hospital with asthma attack or some lung problem."
Recently the dust emitted from kilns 13 and 14 has increased substantially, according to residents of Mackenzie, especially Amelia's Ward, a community which previously had suffered to a lesser extent. Residents there said that in the past they were affected but not to the extent that it is at present.
Some persons are of the opinion that this is a result of the increased production by the company while others attributed this to the change in wind direction.
Regional Chairman Mingo subscribed to the view that there has been a noticeable increase in  dust being emitted from kilns 13 and 14 which has occasioned some anxiety among the people of Linden.
In an interview with Stabroek News Mingo expressed the concern of residents about the company meeting its deadlines. He said also  he recalled that at the first meeting BOSAI had committed to having the dust collectors completed in December 2009, then  April of 2010, then  September 2010, and then it was September 2011.
"We invited Bosai to a meeting and they gave a firm commitment that this thing would have definitely been completed in September 2011."
Last Thursday Mingo and a number of concerned citizens attended a meeting with the management of BOSAI at the bauxite plant at Mackenzie, where Member of Parliament Aubrey Norton was also present. At that meeting BOSAI assured that the project will be completed no later than February 2012.
According to Mingo the main problem with accepting what BOSAI says is that they are not keeping residents abreast of their efforts to implement the plan to install  the dust collectors.
Keep moving
"The fact that the timelines keep moving all the while,  obviously people wouldn't have much confidence in accepting those timelines."
According to reliable sources,  a group of residents had indicated to the bauxite company that they intended to stage a picketing demonstration that was likely to attract the support of a large number of residents.
Meanwhile, there has been  some level of public relations activity by the company via the local television channel although some key information  was  missing, especially relating to the previously set deadlines.
"If they are moving from the timelines they must be able to say to the people in a very convincing way the reasons for the moving of those timelines," stated Mingo.
The issue of the dust collector has been engaging the Regional Democratic Council for well over four years with  constant representation to key players including BOSAI, the Environmental Protection Agency (EPA), the Office of the Prime Minister and the Guyana Geology and Mines Commission (GGMC).
At a stakeholders' meeting some three years ago, Mingo said, the concerns were addressed and assurances were given by BOSAI that every effort would have been made to arrest or reduce the emission of dust in the community.
He said that a commitment was made and kept to arrest the dust emitted from kiln 10. "The kiln that used to produce the dry ore had a high level of dust emission and they did as promised and that problem does not exist anymore and that was after we waited for a few mornings and we wrote and they did what they had to do to address that situation," said Mingo.
He  said that the community is concerned also that there has been a deafening silence by key stakeholders from an information standpoint.
"I am concerned  they (EPA) have been silent as it relates to what is taking place in our environment and if we had the commitment and a strong approach from all the stakeholders, we would have seen much more movement than that."
Around the Web