Head of the Presidential Secretariat Dr Roger Luncheon in 2005 had reportedly told US Embassy officials that he preferred "sanctions other than prosecution" against drug lords.
This position by Dr Luncheon was "cause for some concern" for then US Ambassador Roland Bullen who had written to Washington about the views put forward by the government official in a confidential cable on December 20, 2005.
Luncheon on Tuesday took umbrage at the contents of the WikiLeaks cables which have been widely publicized. At a press briefing, he said that the WikiLeaks disclosures are "predominantly opinions".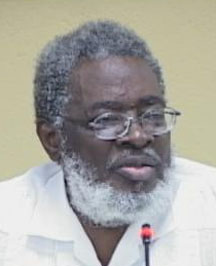 Responding to a question on the Cabinet's mood at a post-Cabinet press briefing, Dr. Luncheon told reporters that "…I think that all of us recognise how embarrassing it has been for the US administration in having so many hundreds of thousands of its sensitive diplomatic cables released to the public, its impact on bilateral relations between the US and its partners worldwide".
"I think the records will show the level of the hearsay, the level of opinions, the level of unsubstantiated statements that are frequently formed and became part of the report from the mission here to their headquarters", he said to sum up Cabinet's reaction to the leaks particularly those about Guyana.
According to Dr. Luncheon, records will show the zeal  of the cooperation between the Government of Guyana and  the Americans, "the lengths to which both have gone to enable the diplomatic relationship to be fostered to growth, how zealously we have defended our sovereignty, national interest…".
He noted that "I would say that the overall mood is the leaks by far and large reflect predominantly opinions, predominately unsubstantiated statements".
Dr. Luncheon later accused the media which take an "anti-government stance" of being selective and only focusing on the negative WikiLeaks disclosures.
"..those that characterize, those that contribute to negative perceptions, in some parts of the media are seized and these are frequently given high publicity and in those instances of which a few occurred, there are factual reports of achievements of interventions. Those perhaps are yet to be brought to the public's attention", he said.
His response came a week after he sidelined questions regarding a former US Ambassador's statement that Guyana was becoming a narco state and that several requests were made for help in dealing with the investigation into the murder of Minister Sash Sawh. Both issues came out via WikiLeaks. On that occasion he had told reporters that he would hesitate to respond to media reports if they are sourced to WikiLeaks and other sources.
Ambivalent
In the cable, titled 'Cabinet insider ambivalent about prosecuting drug lords', Luncheon's position on prosecution was relayed just months before drug kingpin, Roger Khan was nabbed in Suriname and at a time when it was widely believed that Khan was closely connected to the government. The cable also came months before Khan had bugged the office of the police commissioner Winston Felix and later distributed CDs with taped conversations that Felix reportedly had with a number of persons including PNCR member Basil Williams. The tape episode spelt the end of Felix's tenure as Top Cop at a time when the police and the army were raiding suspected drug traffickers' properties which ultimately led to Khan fleeing Guyana to Suriname where he was nabbed.
According to the cable, Bullen and other embassy officials met with Luncheon on December 16, 2005 and during the meeting the ambassador reiterated the need for concerted cooperation among Guyana's law enforcement agencies to fight drug trafficking, especially since he said that the traffickers often appear to be better coordinated than the authorities.
"Ambassador acknowledged that Luncheon and President [Bharrat] Jagdeo are concerned about the seizures of drugs emanating from Guyana.  Luncheon responded in detail with his opinion on how Guyana ought to fight the drug trade," the ambassador said.
Bullen said that Luncheon reported that everyone knew who was trafficking in drugs and laundering money, but Guyana lacks "the final step in getting quality information that can be used to finish prosecutions successfully".  In response Bullen said he told Luncheon that the U.S. could help in that area by providing legal assistance and noted that it may be possible to obtain indictments in the U.S. in cases where it can be demonstrated that drug shipments are destined for the U.S.
"Luncheon said that he is unconvinced about the benefits of legal assistance.  Instead, he would prefer to tighten up bank supervision to expose money launderers.  Luncheon said that he favours `sanctions other than prosecution' to instill in narco-criminals the fear of losing business rather than fear of prosecution," Bullen wrote.
He said that Luncheon reasoned that Guyana's environment would force money launderers to move their ill-gotten gains out of the banks and through other channels with a higher risk of detection. He believed that such a method of public shaming would be more effective in fighting the drug trade than trying to prosecute drug smuggling cases.  Bullen then reminded Luncheon that the U.S. government was working closely with Guyana's Financial Intelligence Unit to crack down on money laundering.
"Luncheon's opinion that prosecuting drug traffickers is not a viable policy objective is disturbing given the serious nature of the narco-trafficking problem in Guyana," Bullen said in the cable.
And he pointed out that while bank supervision  needed to be tightened considerably, it was unlikely to have had a significant effect given that Guyana narco-traffickers were well invested in money-exchange "cambios", the timber and construction industries, retail shops, and other cash businesses that provide easy mechanisms to launder dirty money.
Around the Web