By Iva Wharton
Resuscitating female football at the junior level is a hard task according to Roxanne Keith, coach of Pele's under-13 female team.
Keith said they have to compete with other sporting disciplines, chores and education.
But, she said, although Pele has defied the odds, the club  still has a far way to go.
At the under-13 level there are no competitive football for girls, because of the absence of such teams, Keith stated.
"We hoping, we sending out the word, we speak with other teams and ask them to get girls, because I want our team to function. I myself used to play football and I would be glad to see this team young team develop so in another couple of years we would have a strong women's team," says Keith.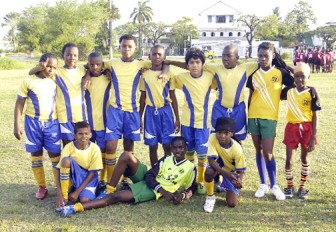 She said the only football her girls are allowed to play, are practice or friendly matches. The practice matches, she said, are usually to assist the under-13 and under-11 male teams to prepare for competitions. There are instances where they may even play as a mixed team.
Yesterday was one such occasion and there were two girls on the team; Allisha McLean and Izannah Rogers. They were playing a friendly match against rival club Santos.
McLean and Rogers 10  and 13-years-old respectively said they love the sport and have dreams of one day playing competitively nationally and internationally. McLean is a defender while Rogers is a striker.
Keith said her main concern is that they girls may become discouraged and leave the sport, because of lack of competitive football at their level. But she continues to be hopeful that things will change for the better in the near future.
She said, she is in contact with  two other coaches, who are forming female teams at the under-13 level. But they don't have the complement to enter competitions.
Keith believes that the girls are coping quite well as they seem to have a love for the sport. "I told them they got be up to the task, football is a contact sport, it's a man's game and if they want to play they go to be able to fit in, but they fit in quite well."
The 15 players on the team were drawn from a mini-camp which the club ran during the Easter holidays.
Most of the girls, she said, came knowing the basics, while others had to be taught the basics. She said the girls either have relatives who are still a part of or were involved in the sport.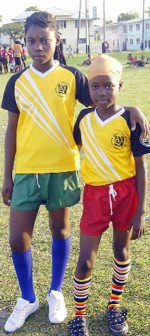 One of the challenges she alluded to was indiscipline, "We had a lot, we had to suspend them for discipline. As you know soccer is a disciplined sport and some of them are not ready for the discipline," she said.
Those suspended should be back playing football in three weeks.
Striking a balance between football and education is an important aspect of the girls' involvement in the sport. It is for that reason Keith said that regular checks are made with parents and schools to ensure that the girls' academic performances are satisfactory. That, Keith said, will determine whether they make the team or not.
A few of the girls would be writing the grade six examinations next year and their practice schedule has been reduced to one day. The team trains twice per week in the National Park.
That, she said, should give them enough time to focus on their education.
Keith, a former footballer, said she left the sport after her first child was born. Two of her five children were involved in the sport, but only one still plays professionally and that is Konata Mannings. Mannings plays for Alpha United Football Club.
Keith said she started competitive football at the age of 13, but stopped when she started making babies.
Around the Web