The two accused in the 2004 hacking to death of Non Pariel, East Coast Demerara businessman Davechand Appanna were on Tuesday found not guilty of murder after Justice Winston Patterson ruled that oral and written caution statements were not freely and voluntarily given.
Justice Patterson had been hearing a voir dire for about three weeks to determine the admissibility of the caution statements given by Kennaise Glasgow called 'Zakery' or 'Juma' and Dexter Headley called 'Mas' to Assistant Superintendent of Police Linden Lord and Sergeant Chabinauth Singh at the Vigilance Police Station.
He on Tuesday directed the jury to return a formal verdict of not guilty for both accused on the charge of murder. The state, represented by Attorneys Teshana James-Lake and Judith Gildharie-Mursalin, following the ruling, offered no further evidence against the duo.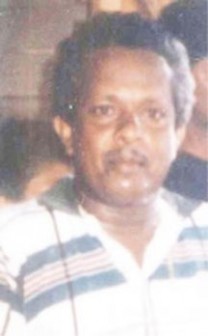 The state has since served its notice of intention to appeal under the Court of Appeal (Amendment) Act.
Attorney Basil Williams who along with Maxwell Mc Kay represented the accused made a brief no-case submission before the judge directed the jury.
Both accused have other matters pending in court and as such will remain incarcerated.
Before the start of the voir dire, Appanna's wife Hemrajee and Aruna, who was in the house when the incident occurred, testified.
According to Hemrajee, she and her husband were asleep around 1.30 am when she was awakened by dogs barking. She said they got up and she noticed that some louvre panes were missing from a window.
The woman testified that a man approached and kicked out a wooden bar that was at the window. She and her husband then started shouting for thief. The man who was dressed in camouflage clothing and who had a gun ordered her husband to open the kitchen door. Appanna did so and the intruder said "soldiers come in". Shortly after this was said two men also dressed in camouflage entered through the door.
According to Hemrajee, she and her husband were taken into their shop and asked for money and jewellery. The woman said she handed over all that she had and then the first intruder started stabbing her husband. He pushed the knife into Appanna's abdomen and it came through his back, she testified. Her husband, she recalled, shouted, "'Oh God ah dead!' and he collapse".
The three intruders, Hemrajee said, told her to lie down in the kitchen and when she did so they started to chop her head and hand. She fell unconscious and when she woke up, she was at the Georgetown Hospital.
Both she and her daughter testified that even though all the lights in the house were on at the time of the incident they did not recognize anyone.
The two accused were committed to stand trial for the murder on January 23, 2009. The preliminary inquiry began in 2007.
Around the Web