Based on his record, Henry Greene should have been fired, not promoted to Police Commissioner, opposition coalition APNU said yesterday, while charging that the US DEA allegations against him could likely snare President Bharrat Jagdeo.
"With the state security and intelligence apparatus at his disposal, President Jagdeo cannot plead ignorance of what was, and is, taking place under his nose," APNU said in a statement, in reference to the recently leaked US diplomatic cables, read at its weekly press briefing.
The cables, made public via the WikiLeaks website, note allegations by the US Drug Enforcement Agency (DEA) that Greene "benefited from the proceeds of drug trafficking,"—a charge he has repeatedly denied—while saying that the US, UK, Canada and EU mission chiefs urged the government against going ahead with his appointment. President Jagdeo, however, has said he was unaware of the allegations and noted that US failed to provide supporting evidence.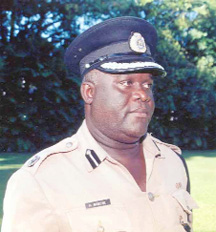 APNU, however, said yesterday that before his appointment as Commissioner, Greene was Crime Chief and during his tenure was well-placed to know of the drug trafficking, money laundering and other illegal activities going on in Guyana.
"The President should have been aware that when Mr. Henry Greene was Crime Chief, Guyanese were being executed at alarming rates and no one was being caught. Drug couriers were being busted overseas after safely passing through security at Timehri. Containers of drugs were showing up in ports around the world after leaving Guyana undetected and yet the shippers were not being identified or pursued. With that record of performance, Mr. Henry Greene should have been assessed, at the very least, as an incompetent Crime Chief. He should have been fired, not promoted," the coalition argued.
It added that President Jagdeo's decision to go ahead with the appointment flew in the face of widespread insecurity at the time and the warnings of foreign friends and donors. "It is difficult to escape the conclusion that President Jagdeo based his appointment on what he knew of Mr. Henry Greene's activities and performance as Crime Chief and he approved of them," APNU said. "The President can fume, fret and rail as much as he likes, but anything linking Mr. Greene to questionable activities also links him to those activities."
Meanwhile, responding to questions from the media, PNCR Vice-Chairman Basil Williams said that the Guyanese public should not be fooled by the statements coming out of government on the revelations being made. He expressed the view that the information is accurate because "there is nothing self-serving about the cables. They were supposed to be private communication between the Embassy in Guyana and their headquarters, so the persons never expected that these cables could be leaked, would be exposed so they had no interest in making self serving statements."
PNCR MP Clarissa Riehl added that when a country sends its ambassadors and high commissioners here, they become the eyes and ears of that country. "I found that those cables, many of them represent actual conversions that these ambassadors have had with officials in this country and their impressions that they come away with from those meetings like the ones on Commissioner of Police… where all the ambassadors asked the president not to appoint this man."
She said that she found it appalling that PPP's presidential candidate Donald Ramotar would say that the WikiLeaks revelations were not earth- shattering. "I think that for us Guyanese they are damn well embarrassing and they show what kind of government we have lived through."
Around the Web