Prime Minister Samuel Hinds and Brazilian Ambassador to Guyana Luiz Gilberto de Andrade on Wednesday lauded the strong ties between Guyana and Brazil, while heaping praise on the new infrastructure built to facilitate trade and other opportunities.
This was done at a ceremony held at the ambassador's residence to mark the 189th independence anniversary of Brazil.
"When Guyana established diplomatic relations with Brazil 43 years ago we did so in a spirit of mutual respect and cooperation recognizing the importance of forging strong relations with neighbouring countries in our quest for peace and development," Hinds told those in attendance, including Minister of Foreign Affairs Carolyn Rodrigues-Birkett, members of the diplomatic corps and the private sector, according to a Government Information Agency (GINA) press release.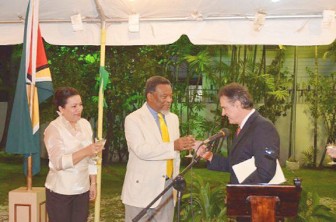 GINA noted that on September 14, 2009, the first physical link between Guyana and Brazil, the Takutu Bridge, was commissioned in the presence of then Brazil President Luiz Inacio Lula da Silva, who had said that the paving of the road from Lethem to Linden would be the next big challenge.
The ambassador noted that since the commissioning, bilateral relations between the two countries have propelled into closer physical ties and new businesses in Lethem, an achievement which Brazil intends to see continue. "The government of Brazil remains committed to supporting discussions on the preservation of Brazilian companies in the development of infrastructure projects in Guyana benefiting the two countries," de Andrade said.
In response, the prime minister acknowledged that there have been significant developments in the trade capacity between Guyana and Brazil and that the full implementation of the international road transport agreement for easier transport of goods and passengers is closer to reality.
"Our trade capacity has been enhanced by an expansion of the product list of the partial scope agreement and we continue to encourage the business communities of our countries to harness the opportunities that are being created by these initiatives so that ultimately people's lives can be improved," he said.
Hinds also spoke of the work of the Guyana/Brazil Frontier Committee established to enhance relations of the frontier regions, GINA stated. It noted that the prime minister also referred to the Frontier Schools Project, which will focus on training in English and Portuguese for secondary school students in the border regions of Lethem and Bon Fim.
Around the Web