An early morning fire yesterday destroyed a guesthouse on Hadfield Street, Stabroek, in what its caretaker suspect was an arson attack.
The fire, which began some time after 1 am yesterday, gutted the guesthouse and also destroyed most of the penthouse and the top floor of the four-storey building that housed Car Care Enterprise and Auto Sales.
Sunita Johannis, the caretaker of the three-storey guesthouse, told Stabroek News that she was awakened by a loud noise. She said she opened her eyes to smoke and "bright lights like a fire." The woman added that she quickly ran to the next room to get her two sons and her brother, and they made their way down the stairs and out of the burning building. The other occupants of the guesthouse, a woman along with her two children and two grandchildren, and six others also made it to safety.
One other occupant, Patrick Remasar, a security guard, was at work at the time of the incident and was unable to salvage any possessions from his home of 11 months. He now has no place to stay. While Ramesar estimated his losses to be some $175,000 in items, including his identification cards and other personal documents, the caretaker said that she lost "everything," including two gas stoves, two washing machines, and a television.
A resident, living across the street from the two burnt buildings, related to this newspaper that at around 1 am, while he was looking at the television, he heard an explosion. Upon looking out his window, he saw the fire on the top flat of the wooden and concrete guesthouse. He said the fire caught on to a pipeline of Car Care's penthouse, and quickly spread. "By time the fire tenders arrive, the whole place engulf…," he added.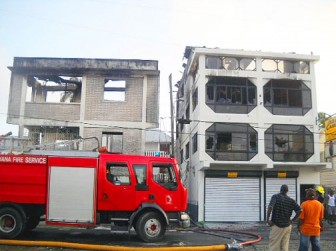 Johannis, who has been living at the guesthouse for 10 years, suspects that arson was the cause of the fire, as there is currently a dispute over the property in court between her in-laws and another person. Twice before—two years ago and in April of this year—she divulged, there were unsuccessful attempts made to burn the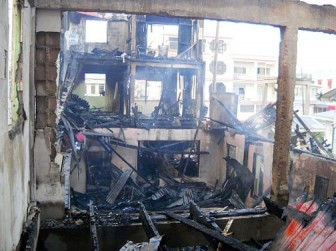 building from the inner stairway leading from the ground floor. This time however, the fire originated from the top of the building, and she believed the point of origin was to ensure the complete destruction of the building.
The owner of Car Care told Stabroek News that he could not estimate the company's losses, "but it is a lot" since the Hadfield Street building was considered the "nucleus of the whole operation."
He said the eight employees who worked there will now have to be shifted to another location.
Some tyres and parts of the building, along with some important documents were destroyed, and the proprietor said he was currently trying to assist in cleaning the place instead of thinking of losses. This newspaper was told that yesterday was supposed to be pay day for the employees.
Around the Web