AFC Vice-Chair Sheila Holder yesterday announced her withdrawal as the party's Prime Ministerial Candidate, in order to undergo urgent medical treatment overseas.
As a result, the AFC announced yesterday that a special National Executive Meeting would be convened next Saturday at its Campaign headquarters to elect a replacement.
The party noted that it had "reluctantly accepted" Holder's request for a replacement to be named.
Holder, 65, in a statement, said that her withdrawal, with immediate effect, was due to a medical condition, which would require urgent treatment overseas during the most intense period of the upcoming 2011 elections campaign.
"While I am withdrawing for health reasons, my doctors are optimistic that I should be well enough to resume my political work in just a few months, I eagerly look forward to that moment," Holder explained.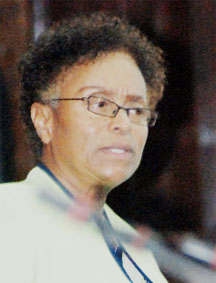 "I firmly believe that we will choose the best possible Prime Ministerial Candidate who will gain my full support," she added, saying that she had the utmost confidence in the AFC and looked forward to continuing her active role in moving Guyana forward alongside her colleagues.
Holder was selected to be the running mate for presidential candidate Khemraj Ramjattan at a special AFC convention that was held last November.
Her nomination was seen as significant, given that no woman, apart from the late former President Janet Jagan, had ever been selected to be the Prime Ministerial candidate for a major political party here.
Ramjattan told Stabroek News that he was saddened at the development and that he would pray for her to recover as quickly as possible. He described Holder as "an extremely loyal friend," and said that he would "dearly miss" her on the campaign trail.
However, Ramjattan noted that Holder would still be on the party's list of candidates and he added that that her experience and expertise would be utilised by the party's campaign. "I know it will affect some women voters who had indicated that they were happy to see a woman as the prime ministerial candidate," he pointed out, while adding that Holder's constituency had been growing as the campaign has developed. "I hope they would not see it as a reason to disconnect and I hope they would continue to be supportive," Ramjattan added.
Holder's withdrawal could see AFC leader Raphael Trotman being put forward as her replacement on the party's slate. He surprised party representatives when he declined the nomination at the convention, citing personal issues. Holder had indicated to Trotman and the party that she would step aside to provide him the opportunity to be the candidate, if his circumstances changed.
Additionally, Executive member, Cathy Hughes, who also declined a nomination to be the candidate, may also be in the running as a replacement.
In a statement, the AFC said Holder would continue to be engaged in the planning and strategic direction of the party as far as her health will permit.
According to the AFC, its membership and executive were saddened to learn about her condition and reluctantly accepted her request for a replacement candidate. "We will certainly miss her on the campaign trail as many Guyanese would also," it noted, while calling her "rock solid" in her quest for equal opportunity for all and noting her hard work to bring about the change that would steer Guyana in a positive direction.
The AFC added that it remained a strong and united party with a singular focus of winning the 2011 elections. "Our resolve to pursue the change that Guyanese desire is and will remain alive in the leadership, management and membership of the AFC," it said.
Meanwhile, members of opposition coalition A Partnership for National Unity (APNU) reacted with dismay at the news of Holder's condition and wished her a safe surgery and speedy recovery.
"We are aware that this is also a very intense period of the 2011 general elections. Our prayers are with Ms. Holder, her relatives and friends," it said in a statement.
Around the Web