A Mediation Centre will be established at the High Court building in New Amsterdam (NA) and mediators will be trained to assist Berbicians in resolving disputes out of court.
Several persons, including religious leaders, social workers and doctors, drawn from across East and West Berbice who will participate in the training met with Chancellor of the Judiciary Carl Singh in NA on Wednesday. He told the gathering that the three-session training this month would be held at the Little Rock Suites in NA and at the end, they would be issued with certificates.
The chancellor said that because of the "very good response we have had in Berbice and with the help of the United States Agency for International Development" the training would be conducted by a team of expert mediator trainers from Jamaica.
He pointed out that mediators do not take sides and that they have to be "neutral as you try to bring two warring parties to resolve their difficulties."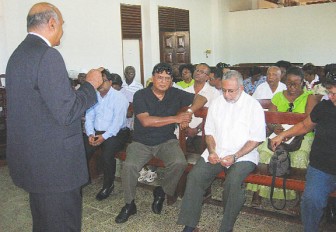 According to him, at the end of a successful mediation sessions, the matter would be reduced to a 'terms of settlement.'
He mentioned too that some cases, such as constitutional issues that involve the state, are difficult and would not be referred to mediation.
Some cases that are capable of being mediated, he said include "money borrowed and trespassing of land…. It just requires you to steer the parties into an understanding that this litigation is really unnecessary…."
He observed too that "lawyers don't generally support mediation because they believe that mediation would hurt them in their pockets. But that's not really what happens…."
He pointed out that if a person retains a lawyer and a fee is fixed, even if the matter is settled the fees have to be paid.
Mediation, which allows for quicker completion of a backlog of cases, requires a little bit of psychology – to prey on the fears of the party, he said.
He said that you can "tell somebody who is concerned about the length of time litigation can take, that this case can take years, whereas this case can be settled now…."
The chancellor told them too that "if a case is handled tactfully, you can be successful mediators… While you would not be connected to the court, the work that you do and the results that you produce will have a direct impact on the results of the litigation at the court and eventually the courts would not become so burdened."
He said with the help of the Carter Centre, he was able to establish a mediation centre in Georgetown in 2005. He also noted that there is also a body in Georgetown called the Mediation Institute of Guyana.
Around the Web