Police Commissioner Henry Greene yesterday threatened to take legal action over what he dubbed "character assassination" based on the allegations made in US diplomatic cables released via whistleblower site WikiLeaks.
"We as a police force have work to do and we cannot afford to demoralise the force particularly at this time…I challenge anyone, any drug dealer to come forward and say they have any involvement with me and that includes Roger Khan who is in the States… and if the character assassination continues, I will have to move to legal action," Greene warned, in a statement to the Government Information Agency (GINA) directed at opposition groups AFC and APNU.
He added: "I have a police force to run, I have ranks who are my subordinates, and it is important that I make sure that they understand what is happening because at this point in time, I feel that there is some level of character assassination, a lot of things are happening and strange enough people seem to be pointing in my direction."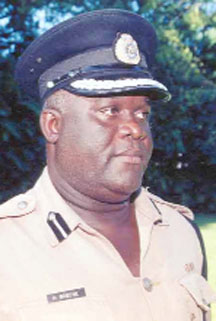 The cables, made public via the WikiLeaks website, note allegations by the US Drug Enforcement Agency (DEA) that Greene "benefited from the proceeds of drug trafficking,"—a charge he has repeatedly denied—while saying that the US, UK, Canada and EU mission chiefs in 2006 urged the government against going ahead with his appointment. President Bharrat Jagdeo, however, has said he was unaware of the allegations and noted that US failed to provide supporting evidence.
As a result, the AFC has called for Greene's resignation and the launching of an independent forensic inquiry into the drug infiltration of the police force, while the APNU on Thursday said that Greene should have been fired based on his record as Crime Chief leading up to 2006.
Greene yesterday said that organisations such as the AFC and APNU have to be more responsible in making statements and observed that while the United States may have its opinion of what took place in Guyana, it has failed to cite any incident or situation which in any way implicates him.
"I make the same call here to anyone to come forward with any instance that they find, whether it is crooked or drug allegations… of things that I did," he said.
He also refuted allegations of corruption during his tenure as crime chief from 2004 to 2006 and said that a lot of things happened long before his tenure and continued to happen after he was elevated from that position.
He reiterated his call to be judged by his records since his appointment and explained that he has continued to cooperate fully with the DEA and the US Embassy whenever he was called upon.
Around the Web