Having one's child die in one's arms is every parent's worst nightmare. What is even more painful is when the police appear to show little or no interest in finding the person/s responsible for the brutal murder of your loved one.
Almost three years after senior environmental officer Alicia Foster was gunned down as she was returning to her Thomas Street, Kitty home from a wake, her parents and relatives have been left with nothing but memories. No one was ever charged, but they remain adamant that one day God will ensure that the perpetrators are brought to justice.
Crime Chief Seelall Persaud has since said that there have been no new developments in the case but investigations are continuing.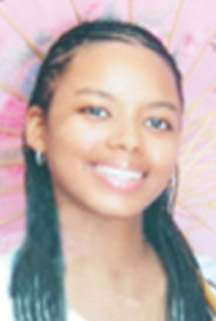 Recently, a very emotional James Foster spoke with this newspaper. He sobbed for about a minute before the first word came out of his mouth. He said that he last spoke with the police in January 2009 and there was no positive information on that occasion. He recalled that he took a bold step to visit Police Commissioner Henry Greene to get an update on investigations.
"His words to me were that he thought that I came with information," James Foster said with tears rolling down his cheeks. The grief-stricken father said the commissioner's reaction left him shocked and he was asked to leave a contact number. James told this newspaper that he left three numbers and is yet to hear from Greene or any other members of the Guyana Police Force.
Asked if he was surprised at the police's lack of action, he responded, "I think everyone knows the incompetence of the police force. I think this is a trend of the police force as everybody knows they are more corrupt than anything else. No one came since then, not even called and I did not go back after that encounter with the commissioner.
"I don't think the police did any proper investigation. Someday things will come to light but it's a matter of time. I am waiting patiently for that day when I will get justice," he said.
Shorty after the killing, reports had surfaced that Foster was threatened by a city businessman. However Persaud had told this newspaper that he was unaware of this. He had explained that at the time of her death, Foster was conducting an investigation into a city business. He said that the woman who operated the business was questioned after Foster was killed, but nothing was found to suggest that anyone from that business place had anything against her.
James, during the interview with this newspaper, said that after nearly three years he is still to come up with a motive. "We are still trying to figure out what was the motive. Nothing was taken from the car or her. They took her out of the car and shot her…" he noted.
Recalling the night of October 12, 2008, James said he and his wife were watching television while Foster and her younger sister went to a wake.
Just before ten, he said, he heard the gate open and then suddenly he heard the buzzer. He recalled that as he was heading to the veranda, he heard what sounded like a single gunshot. "She [the younger daughter] said daddy they shot her [Alicia]," he recalled. He said that from the veranda he saw two men jump into a car, which sped off. Foster he said was lying on the ground near the car which she had parked across the road so that when the gate was open she would drive in. "I ran out and I held her. She died in my arms," he said with teary eyes.
He said that over the years, his pleas for justice have gone unanswered but he will still make another. "Anybody who has information, please pass it on to the police. No matter how small it is, please pass it onto the police," he stressed.
He said tears still flow for Foster adding that everyday thoughts of her consume him. He described her as the perfect child who was so quiet and simple. Foster was accepted into a Canadian university and was expected to pursue a Master's in Environmental Studies when she was killed.
No proper
investigation
Meanwhile Foster's mother Gillian said the family will never get closure until the perpetrators are caught. She said a statement by police that the family was not cooperating has left them disturbed.
She explained that that statement was made by the commissioner around Foster's second death anniversary and it was claimed that this was the reason why the investigation was not moving forward.
The woman told this newspaper that her younger daughter had repeatedly told police that she could not recognize the perpetrators because she was not concentrating on them but rather on her wounded sister. They still wanted her to attend multiple identification parades.
She questioned how her daughter could have gone on an identification parade. "It is our child and we want to do everything in our power to bring the perpetrators to justice. [But] we are not going to expose our daughter and other members of the family to further danger… she did not recognise the individuals," she added.
Gillian noted that the police had her daughter's vehicle for two weeks. She said that if they were dusting for fingerprints, they could have been matched to suspects.
She said that from the inception, she knew "it was another cold case", adding that only when it is a high profile case or the perpetrators turn themselves in and confess that crimes are solved. She said she now leaves the case in the hands of God stressing that the family is not bitter.
She said that had the police been doing the right type of investigation, there would have been results. "I don't have that confidence in the police force. We are seeing too many cold cases," she said adding that they are upset and disappointed at the statement made.
She said it was not the family's duty to solve the murder but rather the police's.
"Everyday you think of your child who you nurtured, cared for and did all you can…. When persons make such statements it upsets you. Why wouldn't a family cooperate to solve your loved one's murder?" she said.
Around the Web