By Marcelle Thomas
Residents along the East Bank Demerara from Diamond to Prospect are complaining about the stench emanating from the canal parallel to the roadway, which they say is unbearable and causes them much discomfort.
Residents said they believe the stagnant water was caused by the effluent from the Demerara Distillers Limited (DDL) plant. However, when this newspaper investigated it was observed that there was no possible point of entry of water from DDL plant to the canal. This is because the area from the drain beginning at Great Diamond to the distillery plant has dried up and weeds and other plants are growing there.
Suzette Ramdass, a resident of Little Diamond, said, "Oh my God! This trench stink so till. It ain't so bad in the day, but you see at night, meh can't draw meh breath in this place. I get so much air freshener; I must spend my whole salary on freshener."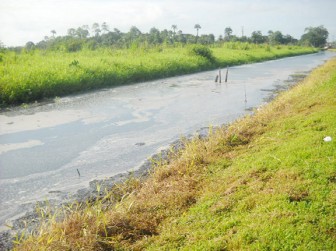 Priya Ramroop, a mother of two one being a baby, complained that the stench seems to be causing her younger child to have respiratory problems. "I can't take this thing anymore," she said. "This drain always used to smell but never like this. Now I want dead in here with this [smell]. My baby never used to have any problems. We lived at my mother-in-law in Enmore for two months before I move back home. Since I come back she had to be rushed to the hospital two times already."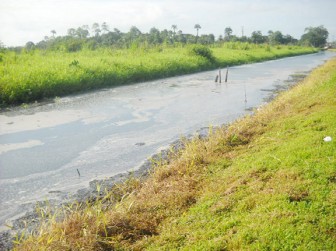 Asked what she felt was the cause of the stench Ramroop said, "Nobody seem to know is what. If somebody throwing something in the water we don't know if it cause it block up; we don't know. But I know is not DDL. They own smell like rum; this different, this is dead rat."
Alvin Luther, who has lived in the area for over 40 years, said that the Diamond area had been designated an industrial area a long time ago. He added that with the recent housing boom cane fields had been converted to residential property but the same engineering layout remains. This, he assumed, was the possible cause for the stagnation of the water. "You have to understand that this place was originally a cane field people never used to want live here," he said "Now look how much houses here and still no change to the drainage, road, water, look no changes to nothing. You ain't expect the water to block up? Is the blocking up get it smelling so stink."
Persons plying the East Bank route on their way to the airport, Linden and numerous other villages said they too had to endure the stench, particularly during peak hours when the traffic slows to a crawl.
Overseas-based Guyanese Tara Singh said "Man! I could not believe it, I had to ask my family if they dumped dead animals in that river. Even when we put on the AC in the van we were still getting it." This, he added, was not good for Guyana since persons visiting would be given a negative image of Guyana  having not yet reached their destination of hotels or family's residences.
When contacted, management of DDL, also substantiated the finding that the Distillery Plant was not the cause of the stench. Manager of Distillery, Projects and Engineering Services Shaun Kaleb, told this newspaper, "First of all we too are victims of this stench. Our staff quarters and our office are also nearby. I mean our staff on a daily basis pass there also and the persons living in the compound are gravely affected this smell. I think because this is the only factory nearby we are automatically blamed. Persons look to where seems to be the most obvious and we are, but we too are victims of this."
He went on further to state, "In terms of any breach at DDL, there is no possibility of our waste water getting into this [canal] because there is no connection between the two. Our waste uses another channel that leads directly into the Demerara River. This channel runs east to west from the           plant under the bridge through a koker and into the river. He added that "engineers took a walk around the entire area with NDC officials and we could not find anything. As a public company, being aware of the effect of this situation in the nearby environs, we engaged the Little Diamond NDC officials to find a possible solution to eliminating this scent. This, of course, was done on our independent budget."
Kaleb informed that DDL engineers and the NDC officials engaged drainage and irrigation officers and after this consultation made a decision to desilt the area at Little Diamond where the water was most stagnant. This exercise should commence soon.
Kaleb suggests that officials try expeditiously to determine the cause of the fetid odour since in addition to the company's image being wrongfully tarnished the health of persons living in the vicinity could be compromised.
When contacted to ascertain whether the Environmental Protection Agency (EPA) was aware of the problem and if any mechanisms were in place to deal with it, Executive Director Indrajit Ramdass said, "we are aware of the problem and are currently making efforts to make a visit." He stated that he could make no pronouncements on whom or what was responsible until this visit was completed. He could not give a time frame for when the EPA would visit the area, saying only, "We are organizing; until that time then nothing."
Around the Web