Acting Chancellor of the Judiciary, Justice Carl Singh recently handed over a collection of the latest law books and reports to the library at the High Court in New Amsterdam.
The volumes are expected to help lawyers operating in Berbice keep up to date.
Justice Singh reminded the Berbice lawyers and members of the Guyana Association of Legal Practitioners that when he took office as chancellor they did not really have a library. He has observed though that the levels and the titles of the reports have increased significantly.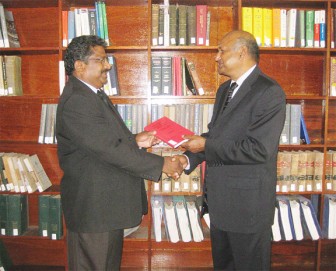 He said they now have a library that "is fair in its resources" to do adequate research. He noted that stocking a library is an ongoing exercise because there would always be updated reports and texts.
The chancellor promised to continue to support the growth and development of the library in Berbice.
He told Stabroek News that "on the last occasion when I came to Berbice and met with the lawyers" they made a request for basic text books.
He then told them to submit a list of the books and with "funding provided by the government I was able to purchase the books out of London".
President of the association, Ramesh Rajkumar, thanked the chancellor for the donation and assured him that it would be put to good use by the lawyers.
He said that over the years they have made efforts to ensure they have a working library which is "only a few years out of some of the books that would benefit us in our day-to-day practice."
Around the Web