More than a month after an assistant pastor was brutally stabbed in an apparent robbery gone wrong, police are no closer to solving the crime even after arresting and questioning a number of persons.
According to Crime Chief Seelall Persaud, police are still waiting for someone to come forward with information as to who killed Motilall Persaud called 'Brother Martin' of Bush Lot, West Coast Berbice and why.
Based on the accounts received, Persaud was attacked and killed by two masked men who pounced on him around 10.15 pm on July 31 as he was about to open his door to enter his house. He had just left his internet café which he operated in the nearby Armadale Village. The assailants dealt him a slash to his foot and followed him to his brother-in-law's yard next door where he ran to seek cover and continued the attack. They stabbed him several times about his body and later fled with a cell phone and a small amount of cash from his pocket. A set of keys for his house, car and business place which was missing was later found at the spot where Persaud was left bleeding. He succumbed to his wounds as relatives were trying to locate transportation to take him to the hospital.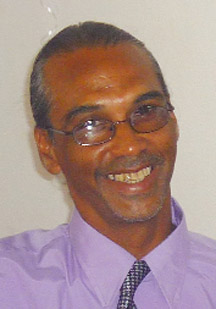 Speaking to Stabroek News recently on the case, the crime chief said that there have been no new developments. He said that more that a month after the murder occurred, police are yet to come up with a motive.
"…We are still awaiting information, for someone to come forward," he said. Meanwhile, the dead man's devastated wife, Geeta, expressed frustration that she is no closer to getting to the truth surrounding her husband's death. She however noted that the day will come when she will get justice.
She told Stabroek News that she recently visited the Fort Wellington Police Station and ranks there told her that "they have questioned a lot of people but they haven't received any solid information and that they are waiting for information to come in". The woman who has two children aged 11 and five years old, said so much time has passed since the incident and "not even a police come here to search". She said she is frustrated and on the brink of losing her mind over how the investigation is going.
She said that the police keep telling her that they don't have enough evidence, don't have any solid evidence and don't have an eyewitness. "I don't know where to go but still I clinging to hope that they will catch these people," the emotional woman said. She said she wants to give the police time "to do what they have to do. I don't want to pressure them if they are still questioning and investigating," she added.
According to Geeta, the incident has left the entire family in shock. She said that her five-year-old son has been hit the hardest as he cries everyday particularly when he is dropped off at school. "Right now we don't know where to turn to. He was everything," she stressed. Her daughter age 11, she added seems to be coping better and she attributed this to the fact that she is back at school among her friends.
She noted that she never expected her husband to be snatched from her in such a violent matter especially since he was so religious. She recalled him to be the kind of person who was a counsellor, an advisor and one who paid special interest in the poor and the sick. She said she cannot even recall Persaud raising his voice at anyone.
"He always had a soft spot for people. He had a heart," she said.
She said she still operates the internet café because she has to take care of her children.
'Is robbery'
There have been reports that Persaud's killing was premeditated. However during the interview with Stabroek News Geeta had a different explanation for what occurred that night. She expressed belief that her husband was killed because he recognised the perpetrators.
According to Geeta, the perpetrators escaped with a cell phone and between seven to eight thousand dollars in cash.  "To me is like it was a robbery but he did not allow them to enter the home," she said adding that on seeing the grill door open, the men probably though that they would have been able to enter the home, but Persaud put up resistance. She said it was during this time of resistance that she believes her husband managed to flee to his brother's house in an adjoining yard but was pursued by the men.
At the time of the incident, Geeta and her son were overseas.
She told Stabroek News that from all appearances, during the scuffle with the men Persaud was able to pull off masks and wigs made of bag twine that were used to conceal the perpetrators' identities. She said she reached this conclusion after she found one of the wigs in the yard where Persaud died. "I don't understand how the police coulda miss that," she said.
She dismissed suggestions that there were links between the murder and the Bush Lot Assemblies of God church of which he was a member. Prior to his death, there was an election, he was voted in to serve as pastor. The current pastor was away on vacation at the time.
"I don't think it [the murder] got anything to do with the church. I wouldn't say is conflict lead to something like this," she stressed. She noted that if her husband had problems with anyone, he would have told her as they were best friends and had no secrets from each other.
"If he had a problem, he would have said something," she told this newspaper.
Link to crime?
Geeta confirmed that Persaud had served a 10-year sentence in the US for killing his wife but denied that he had a criminal history.
The Crime Chief told this newspaper that following the murder, police conducted a background check and discovered that Persaud had a criminal history. He could not pronounce on what crimes he was involved in or if he was ever convicted.
According to Geeta, Persaud was convicted in the US in 1989 for killing his wife and served 13 years nine months in prison where he started "a fresh life". She said the incident was accidental explaining that the two had a fight and Persaud pushed the woman who fell and never regained consciousness.
She said that after serving his sentence he was deported to Guyana. On the first day back in Guyana, she said, he went looking for a church. He became a member of the Bush Lot Assemblies of God.
"While in prison he turned his life over to Christ. In prison is where he found peace and that is where his life was transformed," she said.
Around the Web