Alliance for Change (AFC) insiders have tipped co-founder of the party, Raphael Trotman to be its prime ministerial candidate for upcoming elections.
Trotman surprised party representatives when he declined the nomination at a Special Convention last November, citing personal issues. Now, however, he is the strongest candidate for the position and has major support in the party. "I rather suspect it will be Raphael taking it [the position] hands down," a party official told Stabroek News when contacted yesterday. "There is every likelihood it will be Trotman. I don't see anybody putting up a challenge to him."
Another official said Trotman would be the prime ministerial candidate. "As long as Trotman is in the running, nobody is going to run against him," the official said. He said that as far as he is aware no one else has expressed any intent to contest for the position.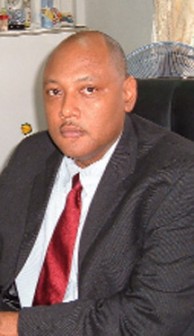 At the November convention, Trotman enjoyed widespread support and even after he declined the nomination, party members urged him to re-consider. When contacted, AFC presidential candidate, Khemraj Ramjattan told Stabroek News that the new prime ministerial candidate will be chosen in a democratic process next Saturday. "We want the process to be an easy transition," he said.
The position opened after AFC Vice-Chair Sheila Holder on Friday announced her withdrawal as prime ministerial candidate, in order to undergo urgent medical treatment overseas. Following her decision, the AFC said that a special National Executive Meeting would be convened next Saturday at its campaign headquarters to elect a replacement. The party said it had "reluctantly accepted" Holder's request for a replacement to be named.
Holder, 65, in a statement, said that her withdrawal, with immediate effect, was owing to a medical condition, which would require urgent treatment overseas during the most intense period of the upcoming 2011 elections campaign."While I am withdrawing for health reasons, my doctors are optimistic that I should be well enough to resume my political work in just a few months, I eagerly look forward to that moment," Holder explained. "I firmly believe that we will choose the best possible prime ministerial candidate who will gain my full support," she added, saying that she had the utmost confidence in the AFC and looked forward to continuing her active role in moving Guyana forward alongside her colleagues.
Trotman could not be contacted for comment yesterday and Stabroek News was told that he is currently overseas. Stabroek News was told that no one has yet indicated that they will be contesting for the position and Trotman is the "strongest contender". The official said that as far as he knows, Trotman is interested in the position. The Executive Committee will elect the PM candidate and while its recommendation would normally be sent to a general party conference for ratification, the latter stage is unlikely to occur given the costs and with the party focusing on the campaign, Stabroek News was told. "I don't think its going to be much of a problem," said the party official.
AFC Executive Member, Cathy Hughes, who also declined a nomination to be the candidate last November, was also identified as a likely replacement, but when contacted yesterday, she pointed out that she has not been nominated. Asked whether she was interested in the position, she demurred, saying that there are many areas where she is willing to serve and not necessarily as the prime ministerial candidate. "I haven't really decided what I would do," she said.
The party official said that if Trotman was not interested in the position, Hughes would have been one of the "natural" choices to be considered for the position.
Meantime, if another person indicates an interest, the process for elections will have to be decided, this newspaper was told.
Around the Web