The Neal and Massy (Guy-ana) Group of Companies made financial donations to twenty-one organizations across Guyana on Wednesday last at N&M staff facilities at Ruimveldt.
Among the beneficiaries were the Dharm Shala, Radio's Needy Children's Fund, Help and Shelter, Guyana Relief Council, the National Library, Cheshire Home, Guyana Community-based Rehabilitation Pro-gramme, Food for the Poor Guyana, Joshua House Children's Centre, Lifeline Counselling Service, Guyana Society for the Blind, Ruimveldt Children's Aid Centre, JC Learning Resource Centre (Essequibo), New Opportunity Corps (Esse-quibo), Suddie Hospital, New Amsterdam Special Needs School (Berbice), Canaan Children Home (Berbice), Anjuman Orphanage (Ber-bice), Beacon Foundation, Ptolemy Reid Rehabilitation Centre and the David Rose School for Handicapped Children. The recipients included three organizations each from Essequibo and Berbice while the others are from Demerara. In addition to the monetary donation, the Cheshire Home was also presented with fire extinguishers.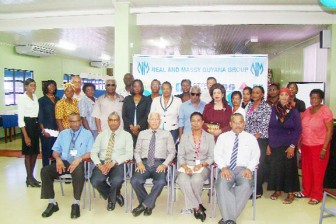 N&M Chief Executive Officer Deo Persaud noted that the recipients have all made valuable contributions towards helping the less fortunate in Guyana as he lauded the various representatives for the commitment and dedication they have shown.
"We started this exercise last year presenting financial assistance to twelve organizations and this year we have increased that number to 21. I want to assure you that it will continue. I wish to thank you for your continued commitment and dedication," Persaud said during his remarks.
Persaud had noted that the ceremony coincided with the company's 43rd anniversary which will be celebrated on September 16.
He also underlined the Group's recent contribution to agriculture, health and education including a multi-million dollar 'Model Farm' which was in collaboration with the Ministry of Agriculture, Road Safety signs, schools identification signs across the country, guidance counselling, and the annual Graduates Trainee Programme for graduates of the University of Guyana.
Appreciation to Neal and Massy was expressed by the Managing Director of Food for the Poor Leon Davis and Executive Director of Lifeline Counselling Service Felicia Adams.
Around the Web