Two months before drug lord Roger Khan was captured, the US Ambassadors to Guyana and Suriname met in Trinidad to map out a plan to nab him and an approach was to be made to President Bharrat Jagdeo to advise of an imminent extradition request even though Washington had doubts about the government's commitment.
Former US Ambassador to Guyana, Roland Bullen believed that the period before the 2006 General Elections was an "auspicious" time to seek the extradition of now convicted kingpin, Khan and other associates, according to US Embassy cables released by Wikileaks.
Khan was nabbed On June 15, 2006 in Suriname. The ambassadors met on April 20, 2006  in Port-of-Spain. In a confidential cable on May 11, 2006, sent after Bullen had met with the US Ambassador to Suriname Marsha E. Barnes, as it was believed that Khan was in that country, the diplomat said that once the extradition paperwork was prepared he would have approached President Jagdeo to give him advance warning of the imminent requests.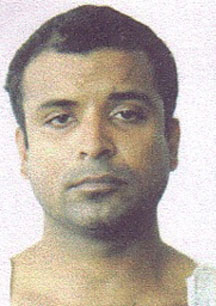 "Post believes the next two months provide auspicious timing to convince Jagdeo to assist in locating and handing over these narco-criminals," Bullen wrote in the cable. "National elections are anticipated in September. Guyana's deteriorating security situation means that Jagdeo's PPP party is extremely vulnerable to this issue on the campaign trail. These extradition requests will offer a tailor-made chance for Jagdeo to back up his anti-drug trafficking rhetoric with deeds.  If he does not cooperate, then word of the requests is likely leak out, causing him and his party great embarrassment in Guy-ana," Bullen said. No such notice had to be given since Khan was held in Suriname.
Shortly after this cable was sent, Khan – who in May 2006 had gone into hiding after a wanted bulletin was issued for him and following the raiding of several of his premises by the police and the army – was nabbed in Suriname and later transported to the US where he was indicted.
According to the cable, Bullen met in Port-of-Spain with Ambassador Barnes and officials from the Drug Enforcement Administration (DEA), Department of Homeland Security (DHS) and the Department of Justice (DOJ). The meeting accomplished two goals; homeland security and the justice department briefed the ambassadors on the status of criminal cases against Guyana's most wanted narco-traffickers; and the ambassadors charted a course of action aimed at getting these narco-criminals into U.S. custody as expeditiously as possible.
In the cable, Bullen described Khan as Guyana's number one narco-trafficker but added that the threat he posed to U.S. national interests extended much further than just drug smuggling.
"He has brokered drugs-for-guns deals, sending weapons to the FARC for cocaine.  He is reported to have social and operational links to [now President] Desi Bouterse, former Surinamese strong-man, convicted narcotics trafficker, and possible coup-plotter," Bullen said.  He said that Khan was a driving force behind the 'Phantom Squad' "that carried out extra-judicial killings with impunity in Guyana in 2002-03."
"Currently, he is trying to use secretly taped conversations of Guyana's police chief to engineer a shake-up in the police leadership (ref D).  In short, Khan is no longer just a prominent cocaine smuggler – he threatens the internal security of Guyana and others in the region," Bullen said.
It was shortly after this cable was sent that secretly taped conversations allegedly between then Commissioner of Police Winston Felix (Felix has never admitted the voice was his) and several persons, including PNCR member Basil Williams, became public.
According to the cable, during the meeting, homeland security officials confirmed that thousands of kilograms of cocaine from Guyana (originating from Colombia and Venezuela) had been imported into the U.S. in recent years.  A common thread running through the investigations was that Khan, along with his named accomplice, was the primary source of cocaine from Guyana, the cable said.
"The Assistant U.S. Attor-ney (AUSA) handling these cases believes that the evidence against Khan and (the accomplice) is now strong enough to move forward with charges against them for conspiring to import cocaine into the US, adding "if we get them, we will convict them"," Bullen reported.
Even though plans were on stream to seek the extradition of Khan and others, Bullen noted that the Guyana Government had no track record to speak of in fulfilling extradition requests.
"In fact, the GOG effectively rebuffed a 2003 extradition request for many of these same individuals because the Attorney General insisted that the relevant witnesses come to Guyana in order to proceed.  This was a preposterous condition given the justified fear these witnesses felt about returning to Guyana.  Ideally, the GOG will be more cooperative this time around and realize that harboring these narco-criminals is self-destructive," Bullen said.
He wrote that the DOJ would seek to submit confidential affidavits in support of the extradition requests rather than bring witnesses to Guyana. "Unfortunately, extradition remains an untested route, so the Ambassadors have explored alternative methods for getting the prospective indictees into custody," he said. The latter may be a reference to the method that was eventually used – Suriname deporting Khan to Guyana via Trinidad where he was seized by US agents. Trinidad has been used by Washington as the staging ground for arrests of several other wanted Guyanese.
Bullen had noted that Khan was believed to travel to Suriname regularly – entering illegally – where, surrounded by his henchmen, he felt relatively at ease and consorted with Bouterse. Twice in the month before the cable was sent, he travelled by helicopter to Suriname, according to the cable, for meetings along the Corentyne before returning the same day..
The ambassadors at the time agreed that the Suriname Government might have had greater interest in resolving the Khan problem and expelling him rather than allow him to remain in Suri-name as an outlaw and potentially destabilizing force.
Around the Web